Fast on the heels of Dunkin' Donuts new Glazed Donut Breakfast Sandwich, which just got a national rollout, another savory-sweet creation is turning heads.
On Saturday, chef Charlie Boghosian of Chicken Charlie's in Del Mar, Calif. unveiled a sloppy Joe sandwich made with a Krispy Kreme donut. The dish, which features meat, cheddar cheese and two halves of a glazed donut, debuted at the San Diego County Fair.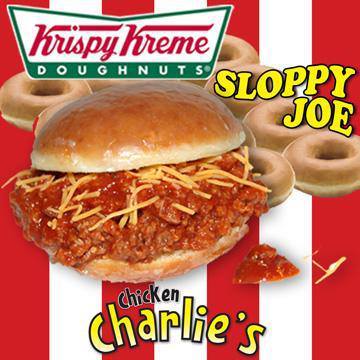 "Your stomach will thank you!" reads the eatery's Facebook post announcing the sandwich. We're not so sure -- HuffPost editors weren't wowed by Dunkin' Donuts' Glazed Donut Breakfast Sandwich last week.
But at least the Krispy Kreme sloppy Joe is in Chef Boghosian's wheelhouse -- he's also the mastermind behind deep-fried Kool Aid and deep-fried cereal.
For a sense of what the sandwich looks like in person, check out this BuzzFeed post. Would you eat one of these babies?
BEFORE YOU GO
PHOTO GALLERY
Wild Dunkin' Donuts Flavors