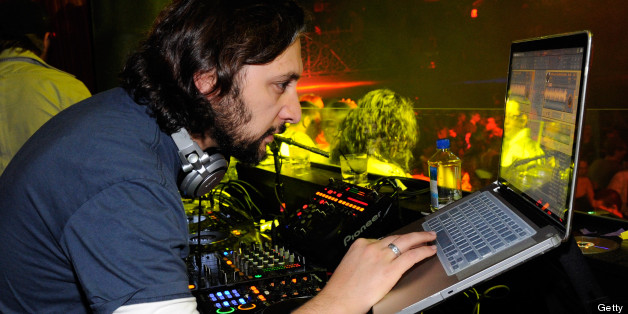 After stealing thousands of dollars from a parent (and international superstar DJ) whose child had cancer, Kristin Marie Gardner Jeffries Kelly Kurt will spend the next five years in prison.
The Washington Post reports on the sentencing of this a thrice married mother of two -- called "Kelly" by the Post, at her request -- and reported bigamist, former stripper, felon and former bookkeeper for Grammy winning international music superstar and Northern Virginia resident DJ Sharam:
Fairfax County Circuit Court Judge Bruce D. White had Kelly before him in 2009, after she pleaded guilty to stealing $147,709 from Waterford Receptions, which runs conference centers in Fair Oaks and Springfield. He sentenced her to three years, but suspended all but six months of that, while ordering her to repay Waterford. "It was my hope in sentencing you the first time," White said, "that your conduct might change."

Instead, prosecutors said, she took advantage of her famous boss — real name Sharam Tayebi — while his child had cancer, siphoning money out of his Yoshitoshi record company to pay for mall shopping sprees, tanning salon visits and hotel rooms. "He had quite a bit of personal stuff going on at the time," Assistant Commonwealth's Attorney Mark Oberndorf told the judge Friday. "I really think this was an opportunity that Ms. Kelly took to begin embezzling. His attention was elsewhere."

Tayebi did not show up for the denouement of the case Friday. He had a show Saturday night in Montreal, and has upcoming concerts in Toronto, Mexico City, Florida, Portugal and Austria. His lawyer, Timothy Davis, said he did not want to comment.
Kelly stole money from the musician's record company using cash, checks and debit cards. According to a January 2013 piece from the Washington Post:
While Sharam was busy with his professional and personal life, Kelly set about writing company checks to herself, obtaining cash from company accounts and using the company debit card for personal purchases, Assistant Commonwealth's Attorney Mark Oberndorf told the judge. In March 2012, businesses that were owed money by Sharam asked where their payments were, and he turned to Kelly.

Kelly sent Sharam text messages, Oberndorf said, which "stated she was sorry for what she'd done, and she would pay him back." Sharam saved the texts. At one point, Kelly told Sharam "she only had 30 days to live," which also turned out to be untrue.
Sharam hasn't made a public statement about the sentencing, but his choice of Twitter RT's may speak for him.
RT @woodyallendaily: If you don't fail now and again, it's a sign you're playing it safe.

— Sharam(@DJSHARAM) June 10, 2013
Sharam performs in Toronto and Mexico City this weekend. He'll return to D.C. for a set at U St Music Hall on September 13.
BEFORE YOU GO
PHOTO GALLERY
Dumb Criminals: Mugshot Gallery