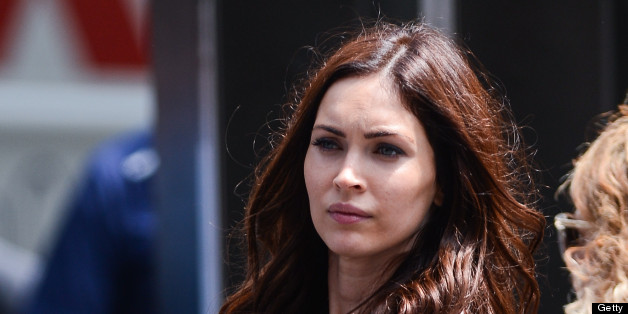 Megan Fox and Michael Bay have really buried the hatchet. On the heels of Fox's co-starring role in the Bay-produced reboot of "Teenage Mutant Ninja Turtles" (she plays a trampoline April O'Neil), there are reports that Fox might also appear in "Transformers 4." (Which is still not called "Trans4mers," which is a shame.)
As Bleeding Cool notes, Paramount posted a photo of a Lamborghini Aventador from "Transformers 4" on its Instagram page with the hashtag "#meganfox." The post was soon deleted, though not before an enterprising user on Shoot For The Edit, MIchael Bay's official message board, noticed Fox's name. "Someone's in trouble," an administrator on the site wrote. "It's gonna be a long week."
All of which could mean that Fox has a cameo appearance in "Transformers 4," which takes place four years after the events of "Transformers: Dark of the Moon." Fox, for her part, didn't appear in the third "Transformers" film, after slamming Bay throughout the press tour for "Transformers: Revenge of the Fallen."
"He's like Napoleon and he wants to create this insane, infamous mad-man reputation. He wants to be like Hitler on his sets, and he is," Fox told Wonderland Magazine in a 2009 interview. "So he's a nightmare to work for, but when you get him away from set, and he's not in director mode, I kind of really enjoy his personality because he's so awkward, so hopelessly awkward. He has no social skills at all. And it's endearing to watch him."
Fox also slammed the second "Transformers" film, sarcastically noting that it was made for "geniuses."
Despite all that, Bay acknowledged that there were no hard feelings.
"She sent me a text three months ago. She said, 'I hope you're doing well.' I responded, 'Who is this?' She goes, 'Megan, you dork!' I said, 'Oh, well, thank you, hope you're well,'" Bay told GQ in a 2011 interview about Fox's ousting from the "Transformers" franchise. "When you're days and months on a set, it's like a family. You say rude things and you make up."
For more on Fox, head to Bleeding Cool.
[via Bleeding Cool]
PHOTO GALLERY
Megan Fox As April O'Neil