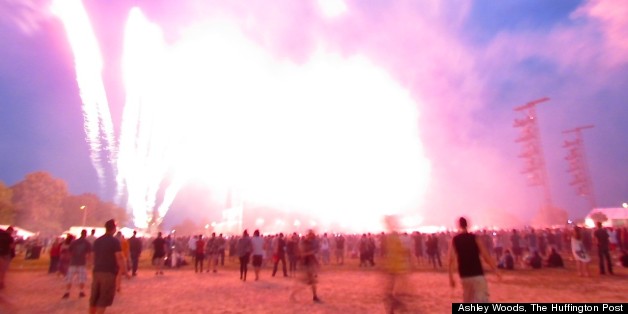 "We love you, Detroit! We love you, Michigan!"
Metallica frontman James Hetfield roared his appreciation at the crowd of attendees at the Orion Music + More Festival on Sunday at Belle Isle, and fans were only too happy to return the favor.
The two-day music festival moved from Atlantic City to the Belle Isle park in Detroit, which featured an almost-three-hour-long set from Metallica, plus the Red Hot Chili Peppers, Bassnectar, Gogol Bordello and over 20 other bands.
Intriguingly, an unknown band named "Dehaan" took the stage on Saturday -- and it turned out to be Metallica, playing a little joke on the Orion crowd. The band ripped through a 55-minute tear of their debut album, "Kill 'Em All." Members of Metallica/Dehaan were also spotted at a Tigers game, introducing Baroness Friday night at St. Andrew's in Detroit and playing host at the festival throughout the weekend.
Orion publicist Shelby Meade estimated to The Huffington Post that the crowds topped 20,000 each day, but festival workers said they saw larger crowds Sunday in anticipation of Metallica's closing performance. On Saturday, the fest's big draw caused problems. Fans bemoaned hours-long lines for will call and belabored shuttle service from Cobo to Belle Isle (parking on the island was closed to regular attendees). By Sunday night, some bars and food stands throughout the park were announcing they had run out of wine, sandwiches and snacks for the crowd.
Hetfield addressed some of the glitches during Metallica's set, but told fans that "these things always happen the first year" of a new festival, but hinted, "next year, hopefully, it'll be even better." While Metallica didn't confirm that the festival would be back in 2014, Hetfield told fans he'd be seeing them again "real soon."
And in a nod to the city, the band's the second-to-last song of the night was the band's cranked-up cover of Bob Seger's "Turn The Page."
Click through our slideshow of photographs from Metallica's insane closing show on Sunday at Orion Music + More, and come back to take the poll -- do you think Orion should plan for a Detroit weekend in 2014?
BEFORE YOU GO
PHOTO GALLERY
Metallica's Insane Performance At Orion Music + More