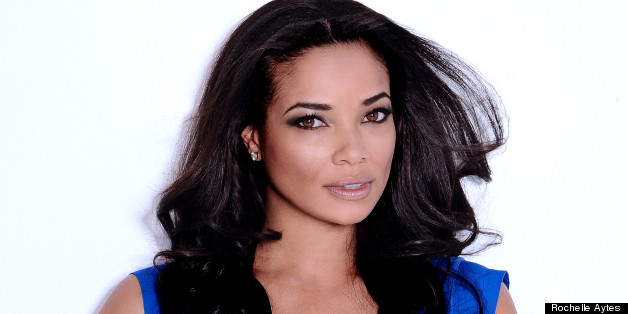 While network television's most popular shows go on hiatus until the fall, last week ABC premiered its latest drama series, "Mistresses."
Starring Rochelle Aytes, Jes Macallan, Shannyn Sossamon, and Alyssa Milano, the provocative series, based on the UK television show of the same name, centers around the lives of four women as they weave through the complexities of their relationships in search of self-discovery.
During a recent interview with the Huffington Post, Aytes opened up on her role as April Malloy, a recently widowed parent, in addition to starring as Peri "Pebbles" Reid in the highly-anticipated TLC biopic, "Crazy, Sexy, Cool."
Congratulations on your new series, "Mistresses." How would you describe your character, April, in comparison to the other women on the show?
Out of the four girls she's the naive one of the bunch. She's always looking for the good in people, but she's also the strongest in some ways. You have to be strong when you're a single mom and going through the death of your husband. It's just been very challenging for her. Throughout the series, she finds her strength and her voice through those challenges.
What attracted you to the role?
Honestly the depth of the character. Being a widow was just one aspect of her story and I thought it would be very challenging. I was excited to play a mom…I also I liked the qualities of this character, how she was kind of nervous when it comes to getting out there and dating. And I thought that would be fun to play a side of myself.
Are you concerned with how viewers may judge the show due to its title?
Absolutely, I have some concerns about that. And I understand you hear the word, "mistresses," and you think that we are glorifying infidelity, and I get that. But if they really give it a chance, they'll see that it's so much more than that. And we're not glorifying it. As a matter of fact, we're showing the downside to it. What happens when you make these bad decisions, you have to live with it. The characters on the show are not happy about the decisions they've made. And just like in real life, people make bad choices and they have to deal with that.
Do you think the title attributed to the subpar debut ratings?
I don't know. Everyone has their style of what they like to watch. And we nailed our target audience, so in that way we were a huge success. I know that we were also competing with the basketball game and the season finale of "Revolution." Now that's one of the top shows on NBC. You can't expect people not wanting to know what happens at the end. So I think the following weeks will really tell what's going on.

You're also set to portray Perri "Pebbles" Reid in the upcoming TLC biopic. What can fans expect from your role?
I play Pebbles, who was a singer in her own right and she discovered the group TLC. And a lot of people may not know this, but when I say discovered, she said to her husband, L.A. Reid that "one day I want to make a girl group and they're going to be huge." And she did it. So I have a great deal of respect for her and her strengths. She was doing things at the time that a lot of women weren't. I YouTubed her; I watched a lot of video interviews to get her mannerisms and cadences. I got to learn a lot about her, and it was great.
Are you showcasing any of your vocal chops in the film?
I really wished that I did, but no. The movie really focuses on the group and how they were created.

As a trained ballet dancer and background in theater, do you have any plans on making a return to Broadway?

I would love to be on Broadway. I would love to do a three-month run, similar to how celebrities do a three-month run on "Chicago." Something like that would be awesome. So, I'm putting it out there.
ABC's "Mistresses" airs on Mondays at 10:00 pm EST.
PHOTOS:
PHOTO GALLERY
Rochelle Aytes Photos
BEFORE YOU GO