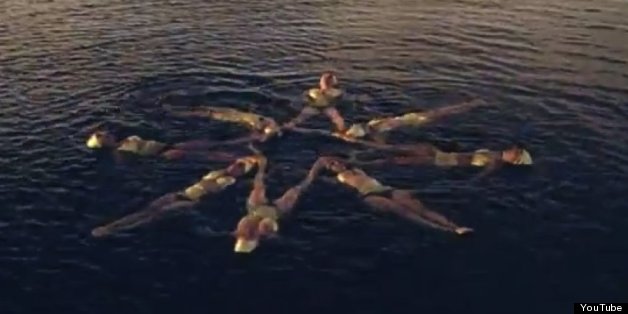 The Portland-bred band Y La Bamba is paying tribute to the aquatic arts in their newest music video, "Ponce Pilato." In it, the indie folk sextet recruited local experimental dance group The Olivia Darlings to demonstrate the obscure art of synchronized swimming. Shot with a 16mm camera amongst the Redwoods and the Puget Sound, the gorgeous short film is an ode to natural beauty and the quirky wonders of the Pacific Northwest.
In a move that could be straight out of a Portlandia sketch, The Olivia Darlings recently started a Kickstarter devoted to distributing over 100 "Aquatic Art" kits to community pools and swimming organizations across the country. The kits contain the necessary training materials novice synchronized swimmers would need to jump start a troop in their community.
The Y La Bamba video, which pays tribute to the legendary late actress and swimmer, Esther Williams, was just another way for The Olivia Darlings to get their message out to budding water ballerinas everywhere. "By showcasing synchronized swimming in nature we hope it will make people think twice the next time they drive past a river," the group writes on their Kickstarter page. "We hope it leads to intense daydreams... that inspire and spawn more-and-more amazing aquatic artists!"
Watch the video by director Madison Rowley above to hear "Ponce Pilato," a single off Y La Bamba's record, "Court The Storm." For more on the Olivia Darlings, check out the group's Kickstarter here and see their video below.