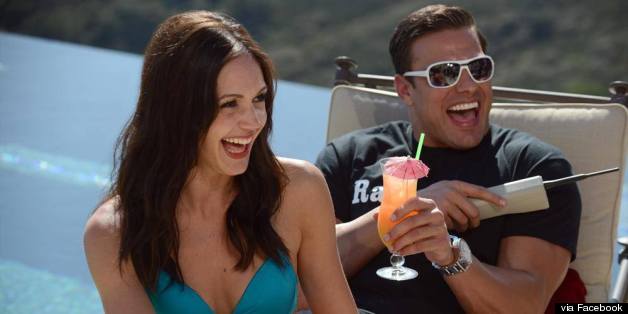 Hopefully you stayed safe and dry Monday as severe storms swept across the D.C./Baltimore region.
And hopefully your regularly-scheduled television viewing wasn't too badly disrupted!
Some fans of the ABC show "The Bachelorette" were peeved when ABC7's Doug Hill interrupted the show to give viewers a weather update, according to Fishbowl DC. They took to Twitter to discuss their disgust and they didn't mince words.
Like this frustrated fan:
@DougHillABC7 I demand an apology for interrupting the climax of the bachelorette #thanks

— Kelsey Donley (@kelseydonley) June 11, 2013
And this punny user:
Oh hail no. ABC did not just interrupt the only exciting part of the Bachelorette to tell us about bad weather 45+miles away...

— Wendy (@BentleyBlonde) June 11, 2013
And -- as you'll see below -- this person who couldn't be more wrong!
OMG NOBODY CARES ABOUT THE WEATHER! Why did abc interrupt the girlfriend part of Bachelorette?!?!?

— Erin P (@eporter715) June 11, 2013
About that weather: Three tornados in Maryland were confirmed by the National Weather Service, including one in Baltimore City, another in Baltimore County and a third in Coltons Point in St. Mary's County.
In Baltimore City, reports indicate a tornado may have touched down in the Locust Point area, where a water spout apparently tore parts of the roof off of a Maryland Port Administration warehouse.
Luckily, no injuries were reported.
Check out some of the best tweets with shots of the tornados, funnel clouds and damage from the storms:
CONFIRMED funnel cloud picture near Canton, #Baltimore taken from the Legg Mason building in #HarborEast. #tornado pic.twitter.com/Bbzx2ghLYb

— FOX Baltimore (@FOXBaltimore) June 10, 2013
Up close picture of tornado/water spout damage to South Locust Pt Marine Terminal. #baltimore #tornado pic.twitter.com/nfQxOrijQy

— Brian Kuebler (@BrianfromABC2) June 11, 2013
BREAKING VIDEO: Tornado over Baltimore, MD | https://t.co/GcltUPAX6j pic.twitter.com/QNlR3Ua7Fl via @NewsBreaker & @wcl_shawn

— Russ Ptacek, WUSA9 (@RussPtacek) June 10, 2013
DC gets a tornado warning while Baltimore gets a flood warning #staysafe pic.twitter.com/qAKRxUZLIA

— Markus H (@FollowKotty) June 11, 2013
Tornado near Baltimore pic.twitter.com/aHkrqYuJFJ

— Billy Godrick (@b_godrick01) June 11, 2013
And a video of the Baltimore tornado:
Were you affected by the storm, either directly or due to your favorite TV shows' interruption? Want to send in a story idea that doesn't have to do with weather or television? Get in touch at dc-tips@huffingtonpost.com.

BEFORE YOU GO
PHOTO GALLERY
Ian Livingston's Amazing Weather Photographs
PHOTO GALLERY
Former Bachelor/Bachelorettes