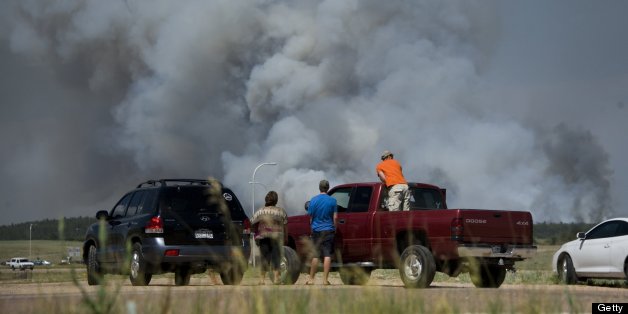 As Colorado reached record high temperatures Tuesday the state broke out into a series of fires, some of which had destroyed several structures and homes by the afternoon.
The Black Forest Fire area in northeast Colorado Springs, the Royal Gorge Fire and a fire spurred on by high winds in Aurora all had damaged and destroyed several structures.
El Paso County Sheriff Terry Maketa told The Associated Press Tuesday that about eight homes had been burned by the Black Forest Fire, but that no exact number is known yet because of how quickly the blaze has been moving.
Just south of the Royal Gorge Bridge and Arkansas River the Royal Gorge Fire has already burned nearly 3,800 acres and has destroyed three structures. The Royal Gorge Bridge and Park have been closed and evacuated while the Arkansas River has been closed from Spike Buck through Canon City.
"The last I heard the Royal Gorge Bridge is not on fire, but yes it is in danger," Royal Gorge Fire Information Officer Gregg Goodland told The Denver Post Tuesday. Goodland said he couldn't speculate whether the fire would reach Canon City.
In Huerfano County the Klikus-La Veta Fire burned about 50 acres after being pushed on by the wind. About 200 evacuation orders were issued Tuesday.
At least five homes were reportedly lost in Aurora after a multiple-condominium fire broke out in the 1700 block of South Pagosa Way. While the exact number was not immediately known, several families in the area were displaced, but the fire was said to be contained by Tuesday afternoon.
The state reached a record high of 100 degrees, beating the old high of 95 degrees that was set in 1956, according to 9News.
Colorado's Democratic Senator Michael Bennet issued a statement about the fires Tuesday.
"Our thoughts are with those who have lost their homes and property in these fires," Bennet said. "Unfortunately, Coloradans are all too familiar with how quickly wildfires burn and the dangers they pose. We have been in touch with local authorities on the ground and are monitoring the situation closely to ensure our firefighters and first responders will have all the federal resources they need to combat these fires."
The American Red Cross is operating shelters across Colorado to help families displaced by the wildfires.

BEFORE YOU GO
PHOTO GALLERY
Colorado Wildfires 2013