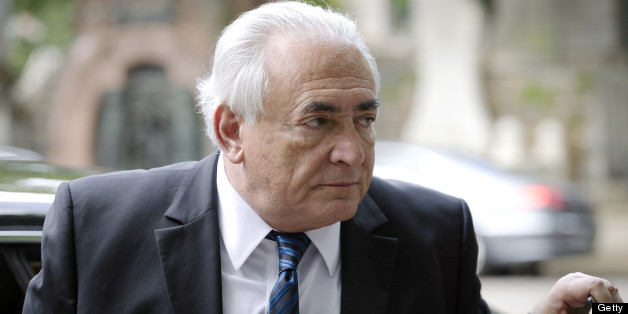 Dominique Strauss-Kahn may soon be able to breath a sigh of relief.
If a French judge follows the recommendation of the French prosecutor overseeing the Strauss-Kahn prostitution ring case, the "aggravated pimping" charge against the former International Monetary Fund chief could be dismissed, France 24 reports.
According to Le Figaro, judicial sources indicated that "all the constituent elements" of the charge against Strauss-Kahn were not met, and evidence of "pimping" was not found. While Strauss-Kahn may have attended parties organized by the group, investigators determined that he did not set up the meetings.
French officials first launched an investigation into the Lille-based prostitution ring, operated by business leaders in the northern city, in 2011. After Strauss-Kahn's name came up in the investigation, he was held and questioned in February 2012, before being handed preliminary charges for his alleged involvement the following month. At the time, Strauss-Kahn's lawyers opposed the allegations and said he was being pursued for his "libertine ways."
Though Strauss-Kahn admitted that he had attended the parties set up by the ring, he stated that he was unaware the women involved were prostitutes.
"He could easily not have known, because as you can imagine, at these kinds of parties you're not always dressed, and I challenge you to distinguish a naked prostitute from any other naked woman," Strauss-Kahn's lawyer Henri Leclerc previously said, according to the Associated Press.
While a court vowed to keep the charge in December, as Le Monde notes, the judge in the matter is likely to follow the prosecutor's recommendation and drop the charge against Strauss-Kahn. If the charge is dismissed, Strauss-Kahn would be relived of all charges regarding his sexual behavior.
Last year, French officials decided to drop a separate rape case against Strauss-Kahn that stemmed from a meet-up organized by the ring. Strauss-Kahn also opted to settle the sexual assault lawsuit brought by New York housekeeper Nafissatou Diallo in December. The charge in the case was dropped as well.
BEFORE YOU GO
PHOTO GALLERY
Dominique Strauss-Kahn Timeline