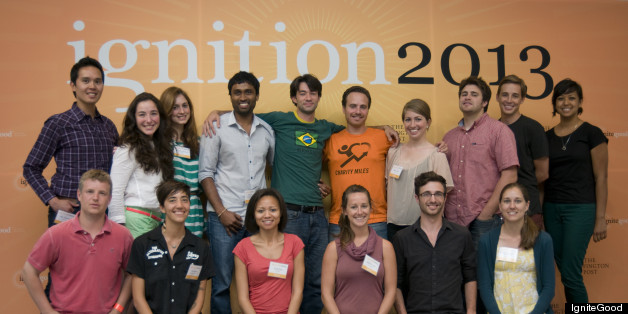 Millennials, like every generation, have their own jargon to communicate a message. But for many young people today, words such as "solutionaries" have more meaning than "yolo."
These very Gen-Yers are meeting in New York this week for Ignition 2013, a four-day event featuring social change seminars.
The event will feature talks from changemakers ranging from the novice to the accomplished, including Arianna Huffington, President and Editor-in-Chief of the Huffington Post Media Group; Jacqueline Novogratz, Founder and CEO of the Acumen Fund and Bill Drayton, Founder and CEO of Ashoka at a Tuesday panel called "The Future Of Social Impact."
The special session will highlight research and open the discussion to young people who won the the Millennial Impact Challenge, a partnership initiative between the Huffington Post and Ignite Good, a branch of the Heartfelt Foundation that works to empower young people to create social change.
Ignition 2013 will honor 15 millennial-led organizations that have been awarded grants to carry out projects that create solutions that solve critical global and domestic issues. The group is in various stages of launching initiatives such as empowering Detroit students to become entrepreneurs or a pay-as-you-go system for solar energy to help off-grid families.
The four-day Ignition 2013 workshop includes, storytelling seminars, best practice strategies and talks from leaders in the space including Donors Choose CEO Charles Best, DoSomething COO Aria Finger and David Allen, the author of "Getting Things Done," among many others.
Check out our liveblog below for updates from the "Future Of Social Impact" panel, which runs from 5:30 to 7 p.m. Tuesday, June 11:
06/11/2013 7:28 PM EDT
Arianna's advice to millennials on loving what you do: Focus on joy, wisdom and empathy as the definition of success, beyond money and power.
06/11/2013 7:19 PM EDT
Arianna on being a young entrepreneur: Whenever my father made any money, he would lose it in months, starting new projects. That's how we grew up. So one day I picked up anything that was portable and set it out on street to sell it.
06/11/2013 7:14 PM EDT
Bill Drayton: The way you organize is fluid. No walls because they make it impossible to be fluid
06/11/2013 6:57 PM EDT
Arianna: The media have a real responsibility to spotlight what is working.
06/11/2013 6:49 PM EDT
Jacqueline Novogratz's advice to millennials: You are on the verge of figuring out hybrid models -- with companies and nonprofits, markets, government, crowd-sourced philanthropy. The capitalist system as we know it is not working.
06/11/2013 6:41 PM EDT
Jacqueline Novogratz on "colossal, miserable, fall-on-your-face failure": "As you get bigger, it gets scarier to fail. When nobody's looking at you, you should be going out of your way to fail on a regular basis!"
06/11/2013 6:39 PM EDT
Bill Drayton's principles for social entrepreneurs: Go from pattern change to frame change--how do you affect policy and measure impact? What is your jujitsu force?
06/11/2013 6:32 PM EDT
Jacqueline on her beginning as a social entrepreneur: 10 years and 5,000 miles later, while starting a micro-finance bank in Rwanda, I came across a child wearing the blue sweater that I had donated in my teen years.
06/11/2013 6:26 PM EDT
Arianna with Millennial Impact winners