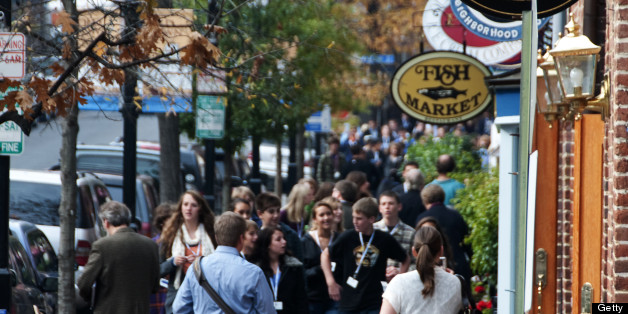 WASHINGTON -- What proposed business is causing an enormous uproar in the tony tourist destination of Old Town Alexandria?
A strip club? No.
Marijuana dispensary? No.
Presented with the proposal to open a hostel -- along with a cafe or bar that would sell alcohol -- area residents have gotten a bit hostile themselves, according to the Old Town Alexandria Patch:
Here is a sampling of what was said and written to Planning Commission about the proposal:

"We're very concerned with the type of transient customer that this type of facility is going to draw."

"You don't want lots different kinds of people come in and out around kids."

"I am also around 30 years old and I don't think I would ever stay in a facility of this type. I would fork over the extra money to stay some place a little nicer with more service."

"As a resident of Old Town Alexandria, I am uncomfortable knowing individuals having no ties to our community, and sometimes no ties to any community, are invited to this area."

"It's no secret that people patronizing hostels are often not outstanding members of the communities where they travel from."
Many on the Planning Commission seem baffled by the complaints.
Commissioner Nate Macek told Patch, "You would think we're being asked to approve a brothel in Alexandria instead of a hostel."
Commissioner Maria Wasowski said the hostel would help "further more cultural exchange for everyone."
And Commissioner Derek Hyra said he had great experiences at hostels as a student in Europe and that the hotels in Old Town "are out of the price range of most students."
The Alexandria Hostel -- which would be an affiliate of Hostelling International, an international coalition of hostel associations -- would house up to 94 visitors each night in a combination of dorm and private rooms. An employee would also be on site 24 hours a day, seven days a week.
Comments on the Patch article also get feisty, with most chastising those who criticized the proposed hostel.
Patch blogger Dana Damico said in a comment that, "I've stayed in too many hostels to count, and I guess I'd be offended by the implication that I'm a vagabond, ne'er-do-well, potential pedophile if I didn't find it so hilarious."
Another commenter suggested the outrageous comments were really just a joke, writing "This is the Onion right? Bravo Patch, I didn't know you guys did satire."
And another derided those attacking the proposal, stating that, "I simply don't believe anyone can be that stupid as to make a statement like the one quoted above."
But the man who proposed the hostel, Paul Cianciolo, who, according to Curbed DC, got the idea while he was serving in the Civil Air Patrol and found young trainees were constantly on the lookout for cheap places to stay, says that maybe people associate hostels with "ne'er-do-wells" because of the movie "Hostel," a 2005 horror flick about college students who meet their demise in a European hostel.
"They made a really bad movie. And because of that movie, a lot of people are scared of hostels. I think that's where a lot of this reaction is coming from here today," Cianciolo told Patch.
We can't wait to see how people react to Old Town's new hookah lounge.
Is Old Town ready for a **gasp** hostel? Tell us what you think!
BEFORE YOU GO
PHOTO GALLERY
10 Hotel Experiences to Have on your Bucket List
PHOTO GALLERY
2013 Movies To Watch