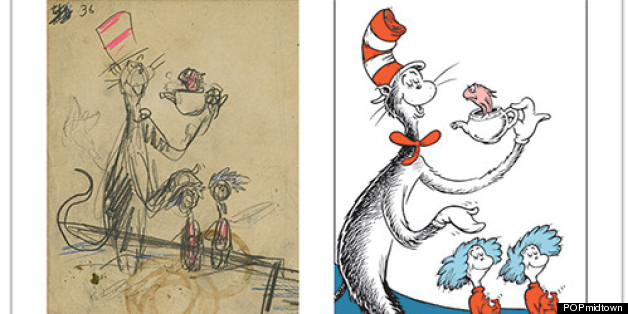 The great Theodor Seuss Geisel, aka Dr. Seuss, will be forever remembered for his iconic children's book illustrations. But an exhibit in New York City reveals another side to the enigmatic artist, showcasing a collection of paintings and sculptures Geisel created for his own personal enjoyment.
The exhibit, titled "The Secret Art of Dr. Seuss," is now on view at POP International Galleries' midtown location. The show features an array of whimsical creations penned by the beloved illustrator throughout his 70-year career.
Thankfully these "midnight paintings" and bizarre sculptures are on view after their first showing in the late '90s, along with a sampling of his most beloved drawings of Thing 1, Thing 2, and the rest of the Seussian universe. Scroll the slideshow below for a peek at the illustrations and let us know your thoughts on the "secret" exhibit in the comments.
PHOTO GALLERY
"The Secret Art Of Dr. Seuss"