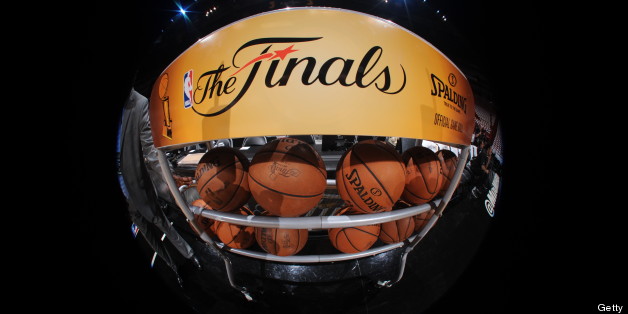 The San Antonio Spurs and Miami Heat split the opening two games of the 2013 NBA Finals in South Beach. With the series even, the Heat will look to regain homecourt advantage with a road win in Game 3.
Miami Heat
vs.
San Antonio Spurs
AT&T Center
San Antonio, TX
9:00 PM ET, June 11, 2013
Tony Parker's clutch circus shot in the final seconds of Game 1 sealed a win for San Antonio. But the Spurs' Big 3 was overwhelmed in the second half of Game 2 by an offensive explosion from LeBron James and Mario Chalmers.
Tied up at 1-1, the series shifts to San Antonio for the next three games, where the Heat are just 3-22 in their last 25 games.
"It doesn't matter," James said of the 2-3-2 Finals format, via the Associated Press. "Two best teams in the NBA at this point. Both teams have won and can win on each other's floor. So it's not a biggie."
Will LeBron's supporting cast come through again to give Miami a 2-1 series lead? Or will the home team give Screaming Spurs Lady something to shout about?
Scroll down for live updates.
06/11/2013 11:32 PM EDT
GAME OVER
No points for T-Mac. But a lot of San Antonio. Spurs win 113-77. They set a finals record for most 3s in a single NBA Finals game with 16. Danny Green had 7 of them. Gary Neal had 6 of them. San Antonio has a 2-1 series lead.
06/11/2013 11:27 PM EDT
Blair
DeJuan Blair is now dominating down low. He has scored 7 straight points.
06/11/2013 11:24 PM EDT
More Tweets
Spurs on 50-point swing since end of Game 2. #NBAFinals

— Art Garcia (@ArtGarcia92) June 12, 2013
LeBron James finishes -32 on the night. 15 points on 21 shots.

— Eye on Basketball (@EyeOnBasketball) June 12, 2013
This is just amazing. What else can you say? #NBAFinals

— chris palmer (@ESPNChrisPalmer) June 12, 2013
06/11/2013 11:21 PM EDT
Benches
LeBron and the Heat Big 3 are done. And the Spurs' bench players are in as well. T-Mac just missed a long jumper from the left corner. EVERYONE in the arena wants T-Mac to shoot and score.
06/11/2013 11:18 PM EDT
DANNY GREEN
Danny Green just wants to shoot. From anywhere on the court. Just buried a long, long 3 from the right wing. 102-71 Spurs. And now Green is coming off the court.
06/11/2013 11:18 PM EDT
T-MAC TIME
Tracy McGrady just got a standing ovation as he entered the game. Then he drove the baseline and delivered a beautiful assist to Splitter for a dunk. 99-71 Spurs.
06/11/2013 11:16 PM EDT
RECORD BROKEN
Bosh blocked a short jumper by Splitter. But that led to a 3-pointer from Danny Green. Because of course it did. And the Spurs have broken the team record for most 3s in an NBA Finals game with 15. Both Neal and Green have 6.
06/11/2013 11:12 PM EDT
Tied A Record
Spurs have 14 3-pointers, which ties the NBA Finals record. Gary Neal has 6, Danny Green has 5.

— ESPN Stats & Info (@ESPNStatsInfo) June 12, 2013
06/11/2013 11:12 PM EDT
Yup
Take a bow, Spurs front office.

— Dan McCarney (@danmccarneysaen) June 12, 2013
06/11/2013 11:11 PM EDT
And Again
Danny Green. Another 3. Spoelstra has a what-the-hell-am-i-supposed-to-do facial expression. 94-67 Spurs. They have hit 14 3-pointers.