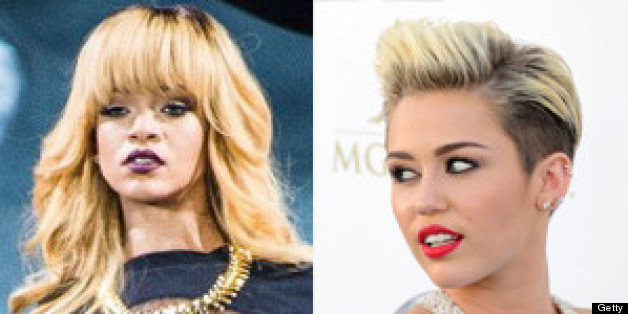 Miley Cyrus made her big return to music earlier this month with the release of "We Can't Stop." But the Mike Will-produced, boundary-pushing single almost went to someone else.
"It was kind of crazy 'cause ... when I originally worked on 'We Can't Stop,' we had did it for Rihanna," Mike Will Made It told MTV News. "The idea was more towards Rihanna. And then Rihanna, she heard [her Unapologetic track] 'Pour It Up,' and then she got on 'Pour It Up' right away. And she didn't even hear 'We Can't Stop.' So then we finished up the record."
The track ended up getting recorded by Cyrus, who is using "We Can't Stop" as the lead single off of her upcoming fourth studio album.
"She liked it, so I thought we were going to knock out one record, and we ended up going in, caught a good vibe, and she's real cool, regular person," Mike told MTV News of working with Miley Cyrus. "We went in, she nailed the record, and she did it with her swag. So it sounds totally different than from what we originally tried to come up with."
This isn't the first time that a hit song has been intended for another artist. Nicole Scherzinger famously passed on three different songs which went on to become chart-toppers: Gnarls Barkley's "Crazy," Lady Gaga's "Just Dance," and Rihanna's "We Found Love" -- a track which Leona Lewis also reportedly had a chance at recording. Even Michael Jackson passed on the song "Rock Your Body," which served as one of Justin Timberlake's first solo hits.
Cyrus debuted "We Can't Stop" on June 3. The 20-year-old singer is expected to release a new album later this year.
PHOTO GALLERY
12 Major Roles That Almost Went To Other Actors
BEFORE YOU GO