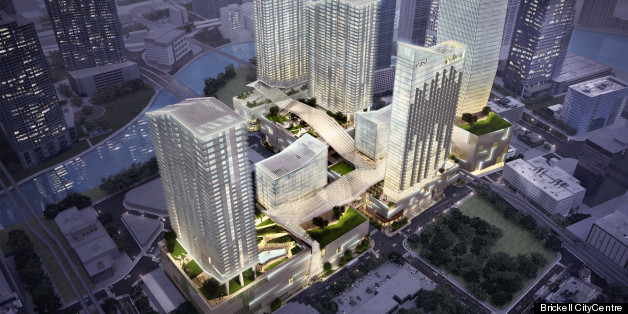 To all those Miamians who can't stop complaining about the sweaty, swampy Miami weather, behold the Climate Ribbon.
The $20 million elevated trellis is being built as part of the new $1.05 billion Brickell CityCentre, a four-block, nine-acre complex slated to open on South Miami Avenue in 2015.
The Climate Ribbon was developed by Cardiff University of Wales's Chief of Architecture Science as well as architects, Arquitectonica, and designer, Hugh Dutton & Associés of Paris.
The ribbon will span 150,000 square feet of Brickell CityCentre, creating a "microclimate" underneath. It will provide shade from the sun, collect rain water for reuse, and create air flow, harnessing Biscayne Bay breezes to keep air flowing between six to nine knots in the public spaces.
"We feel this element will become a distinctive design emblem of Miami and will be reason alone for people to visit and experience Brickell CityCentre," Stephen Owens, president of Swire Properties, said in a release.
But the behemoth complex will have plenty of other features attracting visitors.
Brickell CityCentre will have 520,000 square feet of shopping and dining, two office buildings, two residential towers, and a 120,000 square foot wellness center.
Swire Properties recently announced they will be bringing its East hotel brand to the complex.
Unfortunately, the complex's giant footprint means two blocks of green space will be gobbled up in the process and Miami already ranks 38 out of 50 large U.S. cities for population-to-acreage in regards to public parks.
Will the cool, windy space below the Climate Ribbon make up for the loss?
Click below for renderings of Brickell CityCentre as well as the Climate Ribbon:

BEFORE YOU GO
PHOTO GALLERY
Brickell CityCentre