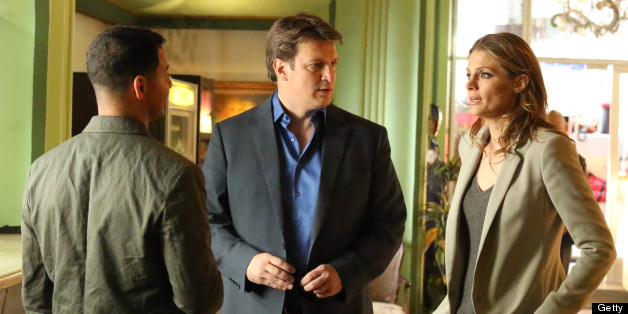 When Richard Castle (Nathan Fillion) got down on one knee and proposed to a surprised Kate Beckett (Stana Katic) in the "Castle" finale, viewers were ecstatic ... and a little disappointed that they would have to wait until the fall to find out whether or not she would accept.
But according to Fillion, he doesn't have any idea what her answer will be either.
"We did not shoot the answer," the actor told TVLine. "We did that last day of shooting on a Thursday. Friday, I came in and did some looping … and then left town immediately [to] work in Canada ... I've not had one email, not one discussion, not a phone call about where things are going, what's going to happen ... So I can't even spoil anything by accident!"
According to actress Susan Sullivan, who plays Castle's mother on the series, Beckett might not even answer right away and if she does accept, there could be quite a bit of buildup before the two finally tie the knot.
"I think they have to play this proposal out. So, that's what I would hope it would be about and I would think, if she had a brain cell working, she would accept. So there. Quote that," Sullivan told OTRC. "And not get married until the end of season 8."
Though the wait may be a long one, Tamala Jones, who plays medical examiner Lanie Parish on "Castle," is sure viewers won't be disappointed by Season 6.
"I know the sixth season is going to be better than any season we've ever done. I can feel it from the cast, from the writers, from everybody," she said, according to OTRC. "Everybody is just so excited. I mean, we kind of felt like we would have another season but, we never take anything for granted down on 'Castle.'"
PHOTO GALLERY
Castle Season 5