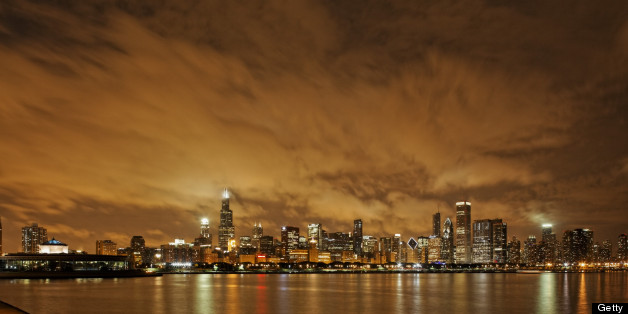 Chicago and the surrounding areas spent much of Wednesday bracing for a major storm the National Weather Service called "high risk," the most perilous category.
"Meteorologists were even warning about the possibility of a weather event called a derecho (deh-RAY'-choh), which is a storm of strong straight-line winds spanning at least 240 miles. The storms are also likely to generate tornadoes and cause power outages that will be followed by oppressive heat.

[Snip]

Last year, a derecho caused at least $1 billion in damage from Chicago to Washington, killing 13 people and leaving more than 4 million people without power, according to the weather service. Winds reached nearly 100 mph in some places and in addition to the 13 people who died from downed trees, an additional 34 people died from the heat wave that followed in areas without power."
According to the National Weather Service, as of a 5 p.m. Wednesday a Severe Thunderstorm Watch is in effect until early morning Thursday in Cook, DuPage, Ford, Iroquois, Kankakee, Lake and Will counties.
Funnel clouds were expected west of Chicago, and by the evening rush hour, authorities were reporting tornadoes touching down in Winnebago County, west of the metro area.
A flood watch was put in effect for Chicagoland from 4 p.m. through late tonight, with heavy rain predicted between 6 p.m. and 11 p.m. Rainfall could total two to three inches in some places, according to the Tribune.
(See an interactive radar of the affected areas.)
Events cancelled in anticipation of storm
As of around 5:30 p.m. Central time, the United Center had opened its doors for the Game 1 of the Stanley Cup Finals between the Hawks and the Bruins, and the Chicago Fire was proceeding with its game at Toyota Park in south suburban Bridgeview. The White Sox, however, threw in the towel early in the face of the pending storm and postponed the evening match against the Toronto Blue Jays.
At Navy Pier, all Wednesday activities were cancelled as well:
Because of expected storms, we're cancelling our #fireworks show, all @BestBeerGarden performances, and tonight's #CirqueShanghai shows.

— Navy Pier (@NavyPier) June 12, 2013
Earlier in the day, Evanston closed all municipal facilities at 3 p.m., and canceled all activities at recreation centers and libraries due to severe weather, according to NBC Chicago.
Storm snarls transit
Around the Wednesday evening rush, 120 flights had been cancelled at O'Hare International Airport in the city, according to ABC Chicago.
"All of the sudden these storms busted through," ABC7 Meteorologist Mike Caplan said. "Large hail, is going to be possible, and also tornadoes."
Traffic slowed on the expressways, while the Metra rail service was slowed in advance of predicted wind gusts before reportedly temporarilystopping service altogether around 5:30 p.m.

BEFORE YOU GO
PHOTO GALLERY
Storm Clouds