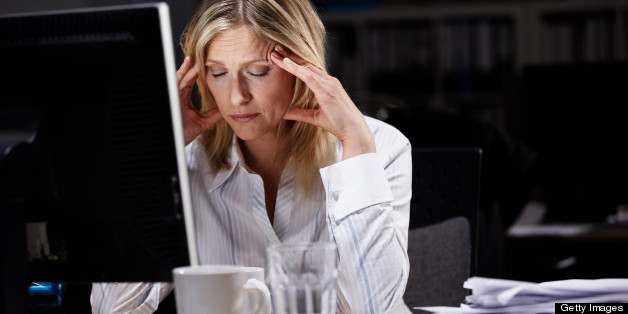 All that pent-up stress could be making you feel pretty crappy, according to a new study in the International Journal of General Medicine.
Researchers from the University of Gothenburg found that chronic stress seems to take an especially hard toll on the health of 40-to-60-year-old women. The most common stress-related health complaints included aches and muscle/joint pain (reported by 40 percent of the women), headaches and migraines (reported by 28 percent of the women) and gastrointestinal issues (reported by about 28 percent of the women). However, researchers did not find links between perceived stress and early death.
The study, conducted at the university's Sahlgrenska Academy, has followed 1,500 women since 1968, following up with them regularly and asking questions about their health and stress levels. The women's experience of stress peaked during middle age, and the researchers found that one in five middle-aged women had experienced stress either constantly or frequently in the past five years.
Of the women who experienced long-term stress but did not report experiencing stress when the study began in the late 1960s, more than one in four (27 percent) reported symptoms of muscular and joint pain during the follow-up 12 years later, and roughly 15 percent reported experiencing headaches and gastrointestinal issues. The link between stress and physical complaints was clear, even after adjusting for factors like weight, smoking, and physical activity levels, according to the researchers.
The study joins a recent body of research which has found that not only are women today experiencing higher stress levels in general than men, but they're also more stressed at work: A 2013 American Psychological Association Report found that women report more occupational tension than their male counterparts. Women also have a greater tendency to internalize that tension, causing them to feel more anxious or sad as a result of stress than men, according to a 2008 study.
The new study's authors concluded that a next step for further research would be to determine how to reduce stress levels at work.
Studies conducted so far on reducing stress in the workplace have found that meditation can be effective in relieving stress and negative emotions among schoolteachers, and that mindfulness-based training can lower stress levels among nurses.
BEFORE YOU GO
PHOTO GALLERY
Quotes About Stress From Women