 This is like a punchline to a bad joke.
Derek Acorah, a psychic who gained notoriety for his work on the TV show "Most Haunted," had to cancel a June 8 show in Scotland due to "unforeseen circumstances."
According to his website, the 63-year-old Englishman specializes in communicating with the dead as a "medium." His skills, apparently, do not extend to seeing his own future.
Acorah's agent, Brian Shaw, said the language on the cancellation notice had been written by officials at the venue, not by Acorah himself, UPI reports.
"Why the theater ... used the words 'unforeseen circumstances' I don't know," Shaw said. "You couldn't make it up -- it's an old music hall joke... It made more sense to [push back the performance]... due to the other upcoming dates on Derek's tour and for personal reasons."
The show was booked as part of Acorah's Eternal Spirits Tour.
Acorah isn't the only psychic to get flak for a canceled performance. Apparently TV psychic medium Joe Power couldn't see what was coming, either.
PHOTO of the ironic cancellation notice, below [via OnFife]: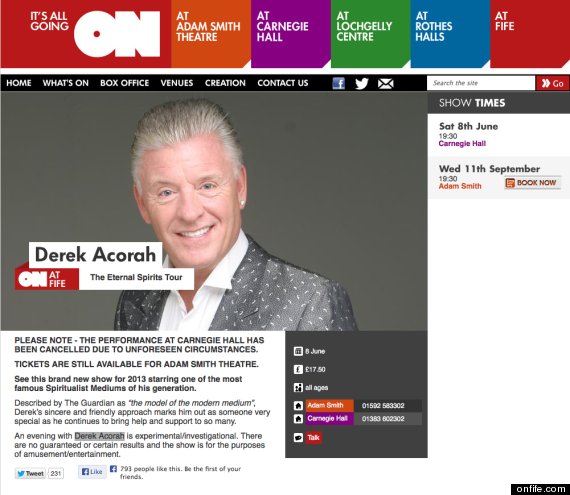 BEFORE YOU GO
PHOTO GALLERY
Famous Psychics