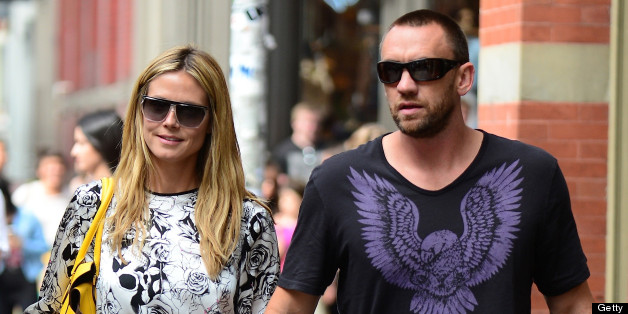 Looks like Heidi Klum has been airing her dirty (albeit fashionable, we're sure) laundry in public. The supermodel powerhouse reportedly got into a heated argument with her bodyguard boyfriend, Martin Kristen, last Sunday night in New York City, spectators be damned.
According to New York Post's Page Six, Klum, Kristen and a third companion were all drinking at the hip West Village eatery The Spotted Pig when "things became heated very quickly." Klum reportedly stormed out, only to return and argue with Kristen some more, after which he left the restaurant by himself.
But despite the public debacle, the two seem to have worked things out. Per the Daily Mail, Klum, 40, and Kristen were seen holding hands yesterday as they made their way around the Big Apple, shopping and dining.
Klum split from her husband of seven years, Seal, a year and a half ago. She admitted to dating Kristen eight months later, telling Katie Couric "I've known him for four years and he's been with our family for the last four years ... He's cared for our entire family, mostly for our four children, helped us tremendously... I trust him with my children's life. He's a great man, you know, and we just got to know each other from a completely different side."
BEFORE YOU GO
PHOTO GALLERY
Celebrity Couples