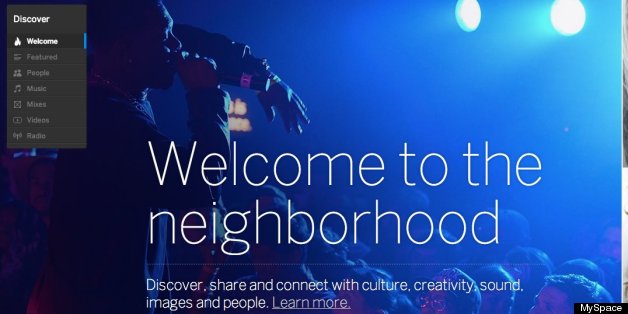 MySpace is back, and it wants to take you back to 2008.
The struggling site, which was once the largest social network in the world before selling for only $35 million in 2011, relaunched on Wednesday, bringing its beta site to a wider audience and officially retiring the News Corp. version of MySpace.
The company also released its first mobile application, which is available for iOS devices.
The new site allows people to log in through Facebook or Twitter and features a visually rich tiled layout, a sort of Tumblr meets Pinterest meets Rebel Mouse theme. In a nod to tablets, phones and widescreen monitors, the site scrolls horizontally rather than vertically. The mobile app also has a function that allows users to create and share animated GIFs.
Both the mobile app and desktop version feature MyRadio, a streaming music player with radio stations curated by MySpace community members and, for now, a handful of popular musicians, including Pharrell, Lady Antebellum, Lil Wayne and Justin Timberlake, who is an investor in the company.
The artist-curated radio stations in MyRadio feature music not only from the artists themselves, but also from their collaborators and influences.
Executives from Specific Media, the Irvine, Calif.-based company that bought MySpace in 2011, called the redesign a "community led development process" that incorporated feedback from artists, producers and other MySpace members about what tools and features they wanted to see in the site.
"It's a completely human-programmed experience," said Tim Vanderhook, the company's CEO.
He said he had heard a lot from artists who spend a lot of time updating various social media platforms, like Facebook pages, Twitter accounts and YouTube pages, so Specific Media is looking to position MySpace as a single hub that can do everything these popular services can do. MySpace is "one site that does all of these things and more," said Vanderhook.
Vanderhook said in an interview that MySpace wants to return to the kind of site it was in 2008, a home for a creative community and one that helped launch the careers of artists like Adele and Bruno Mars.
"All those people used it as that vehicle to control their online presence and promote themselves," he said. "The core where we started from was building out the toolset for the artist community to connect with their fans."
Chris Vanderhook, the COO of Specific Media, identified the new service's target demographic as between the ages of 13 and 30, and pointed to musicians, artists, photographers and DJs, as well as "aspiring kids who want to be one of them," as the network's core members.
The executives would not disclose how much money Specific Media spent on the two-year relaunch of the site.
The relaunch brings a $20 million ad campaign across network and cable television, radio and online, but Chris Vanderhook acknowledged, "There is no ad slogan to magically put MySpace back on top."
MySpace has a long way to go if it wants to get back on top. The site currently has 30 million global monthly users. To put that in perspective, Facebook has 1.1 billion monthly active users, while Twitter announced in December that it has over 200 million monthly users.
PHOTO GALLERY
The New MySpace