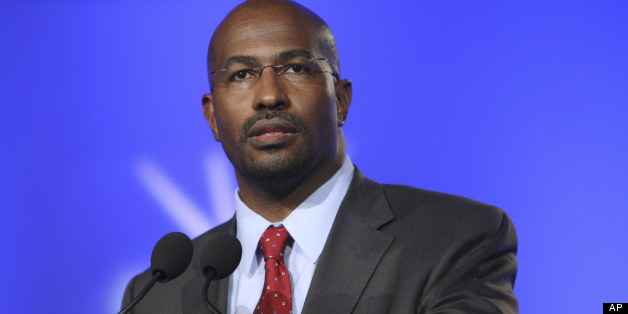 WASHINGTON -- A coalition of progressive leaders, including MoveOn.org Executive Director Anna Galland, Rebuild the Dream President Van Jones and Daily Kos founder Markos Moulitsas are pressuring Democratic House leaders crafting campaign finance reform legislation to be introduced this year.
The coalition is calling on the Election Reform Task Force created by Democratic Leader Nancy Pelosi (D-Calif.) to embrace either the election public financing bill introduced by Rep. John Sarbanes (D-Md.) or the public financing measure introduced by Rep. John Yarmuth (D-Ky.). The progressive leaders urge task force members to reject a campaign finance bill sponsored by Rep. David Price (D-N.C.).
In a letter to Pelosi and members of the task force, the progressive leaders say they applaud the effort to "increase the power of ordinary Americans in our democracy." They add that they will not support a bill that would allow big-money donors to take advantage of a small-donor match, which they contend Price's bill would do.
The three pieces of legislation all create a form of publicly financed elections based on a small-dollar match, but they use varying formulas. The Sarbanes and Yarmuth bills apply a match of 5-1 to donations of $260 or below. The Price bill provides a public match to the first $260 of any contribution, including those up to $1,300.
"Candidates would still court the same big-money donors they court now, but offer them a taxpayer subsidy," the letter says. "Ordinary Americans would not be newly courted or empowered. Such a bill all but promises not to achieve the core goals of citizen-funded elections, and we could not support it."
The position staked out by progressive leaders shows how much campaign finance reform, especially a public financing system based on a small-donor match, has become a major issue for progressives since the 2010 Citizens United ruling by the Supreme Court, and a subsequent decision, opened the door to unlimited corporate, union and individual political spending.
Signing the letter, along with Galland, Jones and Moulitsas, are Progressive Change Campaign Committee co-founders Stephanie Taylor and Adam Green, Democracy for America chair Jim Dean, CREDO CEO Michael Kieschnick, CREDO political director Becky Bond, Wolf PAC founder Cenk Uygur and Working Families Party Executive Director Dan Cantor.
New York Gov. Andrew Cuomo (D), a potential 2016 Democratic presidential candidate, is leading a push to enact a small-donor public financing system in New York state. Progressive groups in the state and nationally have rallied around public financing.
The letter also asks that independent groups funded by small-dollar donations be provided the lowest unit rate for advertising that is given to candidate committees.
"We would oppose any bill that enshrined new advantages to speech by political insiders over speech funded in small-dollar amounts by ordinary Americans," the letter reads. "However, we agree that dark-money organizations that represent a few special-interest donors should not get such advantages."
CORRECTION: This article originally misstated the name of MoveOn.org's executive director.
BEFORE YOU GO
PHOTO GALLERY
Curious Campaign Ads