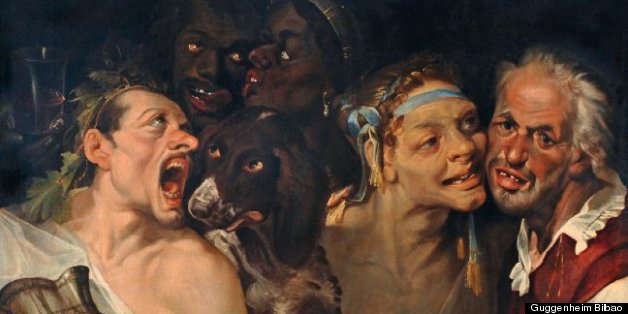 The Baroque style is often identified by luxurious materials, chubby cherubs and sumptuous details. A new exhibition entitled "Riotous Baroque: From Cattelan to Zurbarán" complicates this notion by presenting naughty works from 17th century masters, present day provocateurs and more.
On view is Pieter Aertsen's painted butcher shop in "The Meatstall," a 16th century rendering of glittering raw flesh appealing more to the eye than to the tongue. Visitors will also spy Urs Fischer's "Problem Painting," a society portrait rudely interrupted by an oversized, hairy carrot. Rotting meat and supple flesh permeate this stomach-churning exhibition, where past and present become tangled together.
Veering away from a didactic approach, "Riotous Baroque" lets the artworks collide, leaving differences and similarities to illuminate themselves through the act of looking.
"Riotous Baroque: From Cattelan to Zurbarán" features work from Pieter Aertsen, Giovanni Battista Langetti, Alessandro Magnasco, José de Ribera, Jan Steen, Maurizio Cattelan, Robert Crumb, Paul McCarthy and more. The show runs from June 14 until October 6, 2013 at the Guggenheim, Bilbao in Spain.
See a preview in the slideshow below and let us know your thoughts in the comments.
PHOTO GALLERY
Riotous Baroque (NSFW)