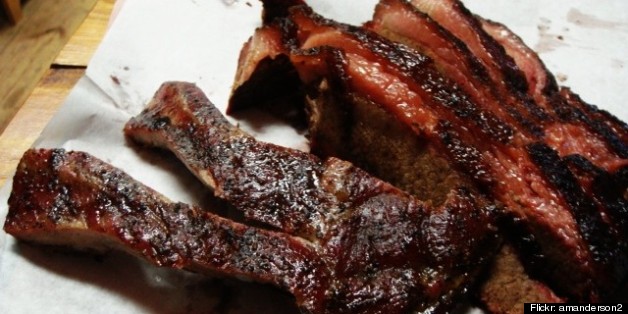 We're clearly fans of barbecue over here at HuffPost Taste. We swoon when we see perfectly smoked brisket. And we would easily start a fight for the honor of burnt ends.
The last thing we'd ever want to do is unknowingly ruin perfectly good barbecue. Which is why we were more than excited to come across this smartly outlined -- and nicely illustrated -- infographic that lets us know exactly how each barbecue dish should be served. McQ's Sports Bar has put this handy guide together with their suggestions on what can take every BBQ dish from good to truly great.
Think you can throw just about any sauce on your dry-rubbed and slowly-smoked pulled pork? Think again. According to McQ's Sports Bar, Carolina BBQ sauce is the proper sauce to bring this barbecue favorite to its full pulled pork glory. The thin and tangy flavors of the sauce are the match that this smoked dish needs. Check out their other recommended pairings below -- as well as the best way to serve each dish.
Want to read more from HuffPost Taste? Follow us on Twitter, Facebook, Pinterest and Tumblr.
Try your new knowledge on these recipes.
PHOTO GALLERY
Barbecue Ribs Recipes