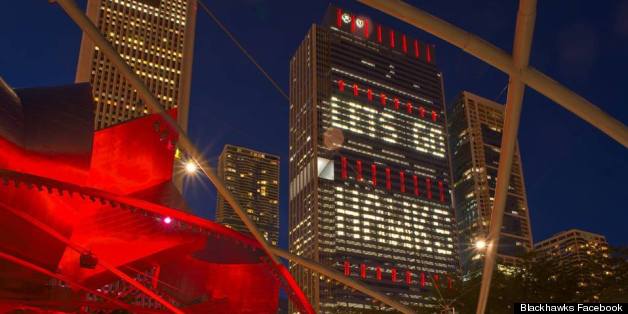 The Windy City is going whole-hog when it comes to showing Blackhawks pride during their quest for the 2013 Stanley Cup. Politicians are making bets, the art kids are (temporarily) posing as jocks and people are rocking some really, really stunning Hawks tattoos.
Story continues below slideshow
PHOTO GALLERY
Blackhawks 2013 Quest For The Cup
And while longtime fans who rooted for the Hawks before it was cool — like 66-year-old Bob Gertenrich who as of Wednesday's OT thriller had seen 2,152 Hawks games — may object to bandwagoners, there is something undeniably thrilling about seeing nearly the entire city rally behind the team.
FAMOUS FACES
During Game 1 of the Stanley Cup finals at the United Center, many of the city's celebrities were in attendance to root for the home team. By Chicago celebrities, of course, we mean business people (Bill Rancic), the mayor and Jim Belushi. Also: Cincinnati Reds Manager Dusty Baker.
FANDOM: NOT JUST FOR SENTIENT BEINGS!
Sporting a jersey is one of the most obvious ways to show love for your team of choice, so the the Chinese Guardian Lions outside the Peninsula donned jerseys, as did the Michael Jordan statue outside the "Mad House."
Not even a sculpture resembling an organic life form? That's OK, because Crain's Chicago Business proves even buildings can be hockey fans:
Chicago's most visible buildings and landmarks are showing their Blackhawks pride: http://t.co/IfSungcQjJ (photo: http://t.co/WZA4qd5HDq)

— Crain's Chicago (@CrainsChicago) June 12, 2013
BEING A HAWKS FAN = GOOD POLICY
President Barack Obama is such a big Blackhawks fan, he made a point of cheering on his team — in front of a crowd of Boston folks on game day. Brave.
His former Chief of Staff (aka Chicago's Mayor) Rahm Emanuel is such a big Hawks fan himself he used it as a code name during his days in the Beltway.
"When I was in the White House, you get a Secret Service code name, my Secret Service code name was Blackhawk," Emanuel told NBC Chicago Wednesday. "I have an affinity, not just as the mayor of Chicago, I really want to see this happen."
Former first lady and Secretary of State Hilary Clinton was in Chicago the day after the big win, and tried to score a few cool points by noting her fandom goes back to her girlhood days in suburban Chicago.
"I actually remember listening to the Blackhawks games on the radio when I did my homework all those years ago," Clinton said during the Clinton Global Initiative kickoff meeting according to Chicago Magazine. "My father and brothers and I were great Blackhawks fans."
Though Clinton was still "Go, Blackhawks," the former FLOTUS thought the whole thing ran a little long.
"But three overtimes? Really? I can imagine there is a sense of euphoria as well as exhaustion affecting many of our Chicago participants today..."
To relive the highlights without enduring nearly five hours of hocket, check out this amazing time-lapse video from the Tribune of Blackhawks goalie Corey Crawford making saves (and a few goofs) durning the night:
BEFORE YOU GO