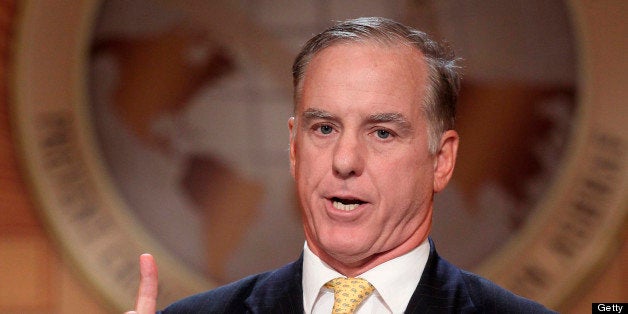 A top staffer for congressional progressives is leaving to become the new head of a political action committee founded by former Vermont Gov. Howard Dean (D).
Charles Chamberlain, the executive director of Progressive Congress, will be rejoining Democracy for America as executive director in August. Chamberlain spent five years as DFA's political director before moving in 2012 to Progressive Congress, which is the foundation arm of the Congressional Progressive Caucus. Chamberlain replaces Arshad Hasan, who is leaving DFA after eight years at the helm. DFA is the outgrowth of Dean's 2004 presidential campaign and is chaired by the former governor's brother Jim Dean.
"While we are sad to see Arshad go, we couldn't be more excited to bring Charles Chamberlain back to Democracy for America as our new executive director," Jim Dean said in a statement. "From volunteer to political director and now executive director, Charles' rise is a reflection of DFA's member-driven ethos and few people understand DFA, our values, and, most importantly, our members better than him."
Chamberlain started with DFA as a volunteer on Dean's 2004 campaign and headed DFA's volunteer efforts in Miami. According to Chamberlain's biography from Progressive Congress, he spent 11 years doing grassroots organizing for labor and children's issues, among others, before taking the DFA political director spot in 2006. Progressive Congress was founded in 2009 by the Congressional Progressive Caucus to work with other progressive groups for future growth of the movement.
The staffing move comes as the group begins a new effort to flip state legislatures from Republican to Democratic control. Earlier this year, it launched a "purple to blue" program in an effort to wrest state legislative seats away from Republicans in swing districts. The program is centered in Virginia this year and is expected to expand to more states in 2014, including possibly Michigan and Pennsylvania. DFA has indicated the goal is to build an infrastructure in state legislative districts to help elect Democrats in the future.
DFA has also endorsed several Democratic state Assembly candidates in New Jersey against Republican incumbents, but those are not part of the formal program. The group also endorsed Democratic gubernatorial nominee Barbara Buono in her uphill campaign against New Jersey Gov. Chris Christie (R) this year.
BEFORE YOU GO
PHOTO GALLERY
U.S. State Capitol Buildings