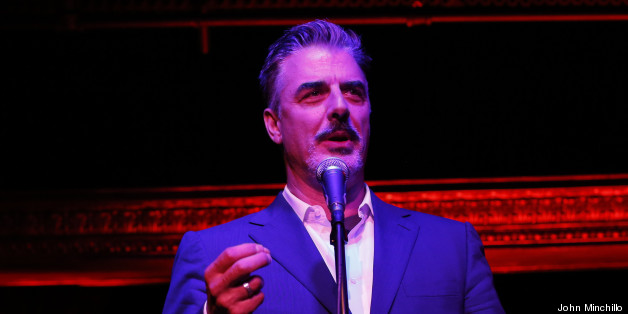 These days, our knowledge of celebrities too often originates with paparazzi images and snarky quotes by anonymous "insiders." After a while, it's easy to forget that stars are real people. That's why HuffPost Celebrity decided to launch its all-new #nofilter quick-fire question-and-answer series. Because how well do you know someone until they've shared their guiltiest pleasures?
Chris Noth may be best-known for playing the cad who kept Carrie Bradshaw hanging on for six seasons of "Sex and the City," but these days the big-hearted actor is more interested in his philanthropic efforts (when he's not starring on "The Good Wife" and working on upcoming film projects such as "Lovelace"). Noth recently teamed with Beaulieu Vineyard in its search for a National Hometown Hunger Hero, through the winery's Give & Give Back program. That title (and a $10,000 donation) was bestowed on Brett Meyers, founder of the food delivery nonprofit Nourish Now. Wednesday afternoon, Noth was on hand at his NYC music venue the Cutting Room to present Meyers with the award, and found a few moments to chat with HuffPost Celebrity.
You curate the jukebox here. What was the last song you downloaded?
"Sound City Sessions," and I also bought "Sweethearts of the Rodeo," the Byrds album with Gram Parsons.
What's your guilty pleasure?
Wine.
Who's your ideal drinking buddy, living or dead?
There's too many to count. I'd be interested to drink some of Napoleon's wine.
"Sex and the City" premiered 15 years ago this month. What's been the series' positive and negative legacy?
Its positive legacy was to bring humor to all female/male relationships and humor to the politics of sex. The negative was its overemphasis on the glamorization of New York City.
What's the most unlikely role you'd take on -- would you do a musical or a comedic part?
I may be doing a movie about a priest who's a pedophile.
"Girls" has drawn comparisons to "Sex and the City." Have you seen it?
I did see it. I thought it was really smart. But I see it almost as a documentary on life for younger people. Really, really interesting. I've seen two or three episodes.
Do you see "Sex and the City" influences in it?
No, completely different terrain. Completely different environment. I think "Sex and the City," like I said, glamorized New York and the city almost remade itself in that image, which I find to be really boring. And I think "Girls" is more realistic about the city.
Carrie wore some avant-garde outfits. What's one fashion item that women love and men hate?
There's a lot of fashion that's not sexy; it's just there to be provocative. But it's not sexy. A woman in a white shirt and jeans can be sexy and it may not be provocative fashion.
BEFORE YOU GO
PHOTO GALLERY
Celebrity News & Photos