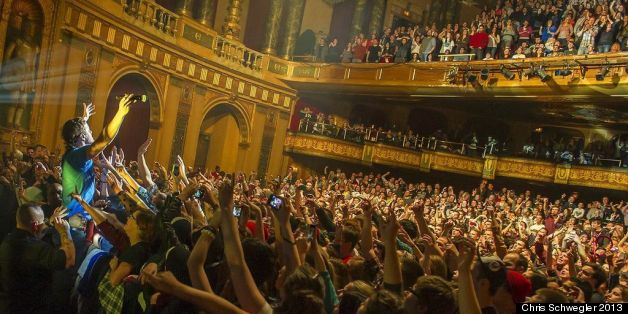 Wednesday night's show at the Fillmore Detroit was a big deal, of course -- the XX and Grizzly Bear were playing. But it was notable for another reason, as the concert helped the downtown venue achieve a personal milestone.
Since the State became the Fillmore Detroit in 2006, the 2,800-capacity concert theater has booked plenty of big shows. But, halfway through 2013, the venue has already sold out a record-breaking 11 shows -- more sell-outs than they've ever recorded in a single season as the Fillmore.
2012 notched 10 sellouts for the year, which, at that point, also set a record. Live Nation Detroit Marketing Manager Amanda Snook told The Huffington Post that re-branding the State Theatre as the Fillmore Detroit has aided the venue's success.
"It's a lot easier to be successful when people know who you are," she said. To cope with all that success, they've expanded their marketing, box office, street team and operations staff.
"The economic impact of the Fillmore's concerts alone this year is conservatively estimated at $3.8 million, and we're only halfway through the year," Snook said.
We sent Snook and Fillmore Detroit General Manager Ben Doughty a few questions about their successful 2013 streak before Thursday's show. Click through the slideshow to see photos and video from the Fillmore's record-breaking season here in Detroit.
(Story continues below.)
PHOTO GALLERY
Fillmore Detroit's Record-Breaking Shows
HuffPost Detroit: Clearly, you've been successful in the past, but what made 2013 a record-breaking year for the FIllmore?
Amanda Snook: Having great bands touring was the first part of the equation. That said we have to give them a reason to want to play Detroit. Bands can go anywhere in the world. Why Detroit? Our talent team knows exactly how to highlight the Fillmore and St. Andrew's Hall as well as Detroit as a whole. There is so much to offer -- the old and new, history vs. revival, great restaurants, fun things to do on the off-time and we can bring them a crowd. That same passion and knowledge drives everyone on the team -- from security to bartenders to production to operations. Everyone here wants to work here. We live for the live entertainment business and are driven to help fans experience that same love.
How many employees work at the Fillmore, full-time and during events?
Ben Doughty: We have 22 full-time employees and roughly 150 part-time employees on our roster. We will use as many as 50 to 100 on a show day, depending on the type of show and ticket sales.
How do you go about choosing the talent to play your venue, and how far ahead are they booked?
AS: Talent is chosen by a variety of factors: who's touring, who's been in the market, or not been here in awhile. Who fits this market (that's a big one), what we know fans respond well to.. those are some basics.
Then the puzzle pieces come in: Do we have the date open? Does Detroit fit into the routing schedule? Is the ticket price going to work for Metro Detroit? Discussions with agents are ongoing, year round. Typically we're confirming three to eight months in advance. (The Fillmore Detroit already has two November shows for City and Colour on sale.) Sometimes, it's a year or longer. On occasion, a show will come up very quickly, too.
People sometimes assume concert audiences are made up of only young people, but you had sell-out shows for Soundgarden and Black Crowes, established alternative acts. Would you say that you're consciously worked to attract older crowds
AS: Absolutely! Diversity breathes life into a venue and Detroit has such a wonderful history of music we'd be crazy not to. From a business perspective, we do what every successful business does: we build relationships with both long-standing fans and those who may not have even been here yet.
What do you think makes the Fillmore a great place to watch a show?
AS: My personal opinion is two-fold. First, it's gorgeous. Ben and our operations team have a labor of love for restoring and maintaining the theater. I grew up in Warren and came here for shows all the time, so nostalgia hits me every time. I think, "Wow, Detroit is so lucky to have this gem."
Second, the venue is built for shows. Main floor is tiered and loge, mezzanine and balcony seating are pitched so you never strain to see the performance. The sound is lovely. The space is comfortable, not too small and not overwhelming. Those are the things that have people saying, "Man, that was one hell of a show!" every time they leave.
Ben, during your time as GM, what are a few of your favorite on-the-job moments?
BD: In recent times, I would have to say hosting bands like the Imagine Dragons & FUN, who are so enthusiastic about playing live shows. ... They make it enjoyable for everyone involved. A historical highlight for me here was meeting and spending time with Peter Wolf of the famed J Giles Band. He delivered one of the best performances I have ever seen on our stage a few years back. He treated our production team like they were the headlining act that night; it was just terrific to witness.
I must say that the variety of programming at the Fillmore makes it an exciting place to work. We might have a wedding one night, Soundgarden the next night and then Young Jeezy the following night. It's something different just about every time we open our doors.
BEFORE YOU GO