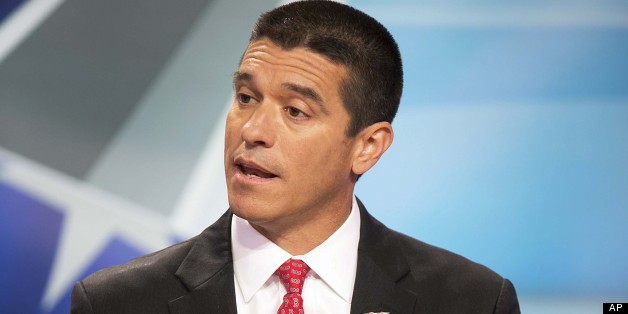 WASHINGTON -- A recently founded super PAC called Americans for Progressive Action is launching a six-figure ad buy to support Republican candidate Gabriel Gomez in the Massachusetts special Senate election to be held June 25.
Gomez is running against Democratic Rep. Ed Markey to fill the remainder of now-Secretary of State John Kerry's Senate term. The spending by Americans for Progressive Action is the first major intervention by any super PAC or outside group to help Gomez as he seeks to upset Markey.
"They're focused on just having a positive impact on elections in America by supporting and promoting candidates that represent a better future for us," said Americans for Progressive Action spokesperson Sheena Tahilramani. "They believe in supporting people with a little bit of an independent streak who care more about doing what's right for America than relying on partisan politics."
Despite the statements from Tahilramani and the use of the word "progressive," often associated with the liberal wing of the Democratic Party, in the group's name, Americans for Progressive Action is well connected to Republican Party consultants, lawyers and media firms, based on available records and information.
But Tahilramani disputed any suggestion that the group is conservative. "We are definitely not a conservative group," she said. She would not, however, disclose the names of those running or involved with Americans for Progressive Action, and also declined to discuss its donors.
Those donors will remain unknown until after the June 25 election as the super PAC was formed on June 5. Groups spending money or contributing to either Gomez or Markey prior to June 5 are required to file a pre-special election disclosure report on June 13. Any group spending money for ads on Boston stations are required to make information about political ad buys available online through the Federal Communications Commission.
Tahilramani said it's hard to know whether Americans for Progressive Action will support candidates other than Gomez in the future.
"I think that's kind of a hypothetical question," Tahilramani said. "I can't comment on what's going to happen in the future because I have no idea. What I can say is that the organization is focused on promoting reasonable candidates. What that means in the future remains to be seen."
Americans for Progressive Action was formed on June 5 by treasurer Nancy H. Watkins, a Republican election lawyer in Florida. According to FCC records, Watkins has been the treasurer for dozens of Republican campaigns and super PACs including Rep. Michele Bachmann's presidential campaign, the congressional campaigns of Reps. David Rivera, Daniel Webster, Bill Posey, Frank LoBiondo and Lou Barletta, among others, and for super PACs including billionaire Joe Ricketts' Ending Spending Action Fund.
Tahilramani is the former chief of staff to Karl Rove and was an intern in the Office of Political Affairs in the White House of former President George W. Bush. Rove is the co-founder of the Republican super PAC American Crossroads and the non-profit Crossroads GPS, two of the biggest outside spenders on the 2012 election. Neither have spent money in the Massachusetts race.
Tahilramani was hired as a spokesperson for the group through the firm 7 Seconds Strategies, which is made up entirely of former Republican Party communications professionals.
In the advertising-buy contract with the Boston television station, WCVB, Americans for Progressive Action is listed as the advertiser but the contract agreement is with Smart Media Group, a noted Republican Party ad maker and buyer. A network analysis by the pro-transparency Sunlight Foundation revealed Smart Media Group to have received payments from eight pro-Republican Party super PACs in the 2012 election cycle. Two of those super PACs, Ending Spending Action Fund and Super PAC for America, employed Watkins as treasurer.
The Washington Post reported on Wednesday that the ad buy from Americans for Progressive Action will total $700,000. According to available advertising-buy disclosures, the group has purchased $108,077 worth of ads on Boston's WCVB to air from June 13 through June 18.
The ad buy is the first substantial purchase by a conservative group in support of Gomez. Markey has the backing of a number of groups including the Democratic Senatorial Campaign Committee and Senate Majority PAC.
Markey initially sought to limit the amount of spending by super PACs and other outside groups by reaching an agreement with Gomez, much like the one Markey had with Rep. Stephen Lynch (D-Mass.) in his primary campaign and the one that limited outside spending in the 2012 Senate race between Scott Brown and Elizabeth Warren. Gomez rejected Markey's proposal and has since had $1.5 million spent against him by outside groups, according to the Center for Responsive Politics.
The Huffington Post Pollster average gives Markey a seven-point advantage over Gomez. A survey released on Wednesday by Harper Polling showed Markey with a 12 point advantage.
BEFORE YOU GO
PHOTO GALLERY
U.S. State Capitol Buildings