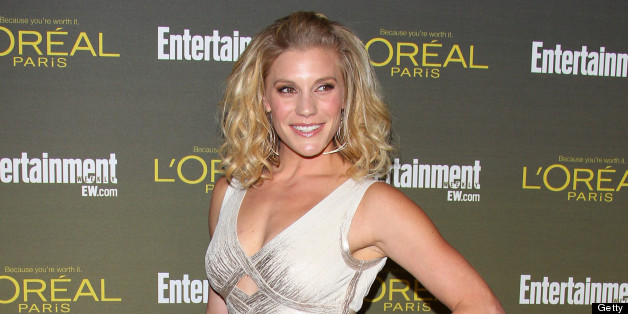 Joining the cadre of stars who've taken public stances on the ongoing debate surrounding gun control, former "Battlestar Galactica" actress Katee Sackhoff ignited a tit-for-tat discussion on Twitter after remarking on a recent fatality.
Discussing a 4-year-old's recent shooting of his father, Sackhoff claimed to have "lost half [her] followers" after tweeting the following:
Please practice gun safety. This is horrible! RT @cnn: Arizona police: 4-year-old boy fatally shoots his father. on.cnn.com/12edICF

— Katee Sackhoff (@kateesackhoff) June 10, 2013
To which one user responded:
@kateesackhoff @cnn @cnni Here's a radical idea folks. How about NO gun?

— JohnnyDosh (@FulsomPrison) June 10, 2013
Keeping a level head, Sackhoff wrote back:
Never gonna happen in the US. Proper gun safety is a necessity though. RT @fulsomprison: (cont) tl.gd/m137kg

— Katee Sackhoff (@kateesackhoff) June 10, 2013
What followed found numerous tweeters chiming in to share their two cents on the matter, including many who praised Katee Sackhoff for speaking out. The actress elaborated on her viewpoints, saying:
There are many safe homes with guns & kids in them. I've grown up around them for hunting & NEVER handled one without an adult. It's about safety, education, and loving & listening to our children. There are so many reasons why guns are scary but there are so many reasons they are part of our world & lives. There is no easy answer here that will satisfy everyone.
The actress ended the conversation by saying:
Well I guess I just learned talking about #GunSafety inspires a massive debate. Pro-Gun or Anti-Gun SAFETY should be unanimous! #OneLove

— Katee Sackhoff (@kateesackhoff) June 10, 2013
Sackhoff, who currently stars on A&E's "Longmire," seems to have emerged mostly unscathed. She may have lost an ample number of followers, but she's also gained a significant amount thanks to gun-control supporters who've taken note of her perspective. As of Monday, when the incident occurred, Sackhoff had 98,000 followers -- a number that's since grown to more than 134,000.

BEFORE YOU GO
PHOTO GALLERY
Celebrities & Gun Control