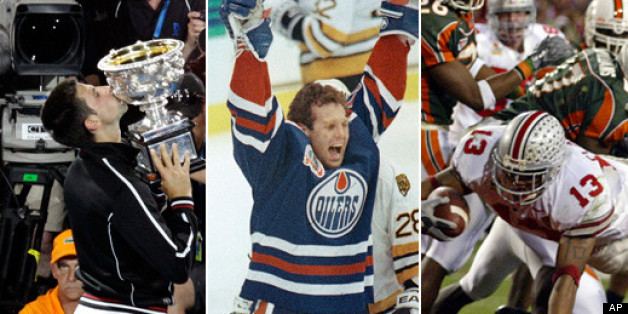 It seemed like neither the Chicago Blackhawks or Boston Bruins would ever score the game-winning goal in Game 1 of the Stanley Cup Final. But, finally, with 7:52 remaining in the third overtime, Blackhawks forward Andrew Shaw deflected the puck past Tuukka Rask.
Clocked at 112 minutes and 8 seconds, this Blackhawks-Bruins classic was the fifth longest Stanley Cup finals game. The longest game in a Stanley Cup Final came in 1990 when Edmonton topped Boston in Game 1 with 4:47 remaining in the third overtime.
Sometimes when a title is on the line in any sport, each contender refuses to give an inch to their opponents. This can lead to some of the most epic, tense and longest games. From Novak Djokovic and Rafael Nadal's marathon Australian Open final in 2012 to the 14-inning Game 3 of the 2005 World Series, here are the longest champions matches, major tournament conclusions or games in a title series.
PHOTO GALLERY
Longest Championship Games in Sports
BEFORE YOU GO