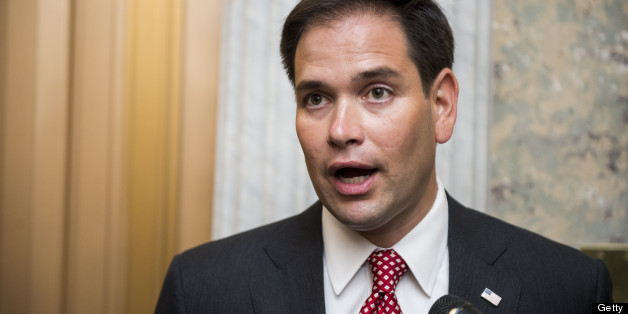 Sen. Marco Rubio (R-Fla.) waved off a reporter's question on Thursday about his Republican colleague's controversial rape comment by claiming simply that he has no idea who the guy is.
Rep. Trent Franks (R-Ariz.) made national headlines on Wednesday when he claimed during a debate about an anti-abortion bill that the "incidence of rape resulting in pregnancy are very low." The comment harkened back to former Rep. Todd Akin's (R-Mo.) notorious claim that women rarely become pregnant from "legitimate rape" and intensified rumblings that the GOP's so-called "war on women" is back.
But when AP reporter Steve Peoples asked Rubio about Franks' comment at a political luncheon on Thursday, Rubio said to a group of reporters, "I don't know who that is."
While it's entirely possible that Rubio has no idea who Franks is, Franks has served in Congress for a decade, and the two shared a stage in May 2010 when they were the only keynote speakers at the Seminole County Republican Hob Nob.
Rubio's office did not respond to a request for further comment.
CORRECTION:An earlier version of this article incorrectly identified Rubio's party affiliation in a photo caption.
BEFORE YOU GO
PHOTO GALLERY
Sen. Marco Rubio