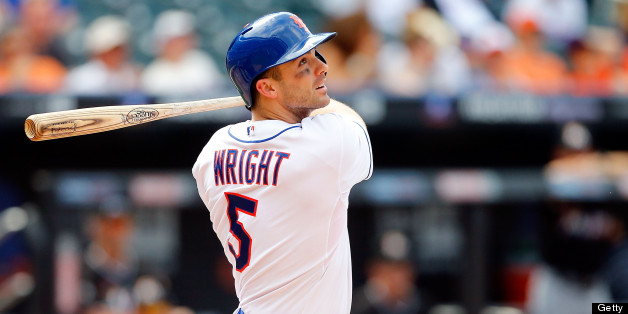 This oughta give the Mets' front office a few more gray hairs.
Deadspin revealed Thursday that a team PR person contacted CougarLife.com -- a website for older women seeking younger men -- about helping stuff the ballot box to vote Mets third baseman David Wright into the All-Star Game.
The game is being played July 16 at the Mets' stadium, Citi Field, creating more urgency for Wright to start for the National League team.
The 30-year-old Wright was recently voted Major League Baseball's "hottest cub" in a CougarLife.com poll of 11,000 women. The news was picked up by several outlets, perhaps offering a publicity boost for Wright.
But apparently, Deadspin notes, one Mets staffer decided to go one step further and reach out to the site in an effort to get Wright more love in the All-Star vote. (He stands in second place in the balloting, behind the San Francisco Giants' Pablo Sandoval.)
The Deadspin article chronicles a redacted exchange of emails in which promotions, including a possible "win a date" setup and ticket giveaway, are discussed to mobilize gals longer in the tooth to vote for him. But when team higher-ups were consulted, they put the kibosh on the deal, explaining that neither Wright, who is engaged, nor the team thought the arrangement would be good for their image.
A Mets rep confirmed the cougar campaign in an email to The Huffington Post:
Cougar Life voted David Wright as the hottest cub. In our effort to expand All-Star balloting to wider audiences, so as to increase votes, we did reach out to Cougar Life. Last year there was a big swing of votes at the end that cost David the starting job. We decided to do everything to make sure that doesn't happened again this year. We ultimately elected to pass. We thank whoever leaked this to Deadspin for increasing awareness of #VOTEWRIGHTNOW AT METS.COM.
(It should be noted that MLB does not limit the amount of times fans can vote.)
Avid Life Media, the parent of CougarLife, had alerted the Mets to the prospect of 40,000 potential voters in the New York area, but a rep told HuffPost, "Since the Mets have backed out from working with us, we've decided against reaching out to our members."
In an email, Miss CougarLife, Marlo Jordan, said that Wright ran the risk of losing the next "hottest cub" survey.
"There's no doubt our New York Cougars would have boosted David's chance at winning," she said.