If this doesn't warm Erdogan's heart, we don't know what will.
Ready with a respirator mask to protect against police tear gas, pianist Davide Martello played a baby grand piano in Istanbul's Taksim Square on Wednesday night to calm tensions that have lately rocked the city. Taksim, where the protests began, has seen some of the most intense violence.

Martello had the crowd transfixed as he played a number of songs, including some by Bach and "Imagine" by John Lennon, according to The Independent.
Just as impressive as the music is how Martello got the piano to Taksim. According to The Independent, he built it himself, tricked it out with lights so he could play in the dark and pulled it on a trailer from his hometown Konstanz, Germany, to Istanbul -- a trip of about 1,300 miles.
"I will play for the police and the people because we are all one family!" Martello declared on his Facebook page.
Click the video above to watch. See more of Martello playing Istanbul here.
LOOK: The benefits of being mobile: Martello unloads his piano in Ljubljana, Slovenia. (Photo by Lisa Schwegler)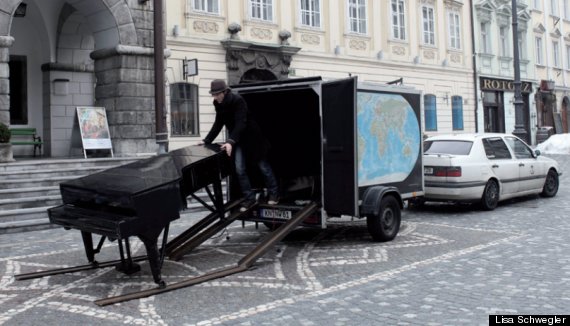 Martello plays in to a captive audience in Marseille, France, in the summer of 2012. (Photo by Lisa Shwegler)