 Americans worry about threats to their privacy, yet polls find division and uncertainty about Edward Snowden's actions (unless nudged to an answer). Most Americans view sexual assault in the military as an important issue. And Haley Barbour has a polling simile you've never heard before. This is the HuffPost Pollster update for Thursday, June 13, 2013.
REACTIONS TO SNOWDEN - The HuffPost/YouGov online poll was among several recent surveys to probe opinions on Edward Snowden, the contractor who leaked information on NSA surveillance programs: "Americans with an opinion [are] divided over whether Edward Snowden did the right or wrong thing...According to the new poll, 38 percent of Americans think that Snowden releasing top-secret information about government surveillance programs to the media was the right thing to do, while 35 percent said it was the wrong thing. Twenty-eight percent said they weren't sure...But [those] paying the most attention to the leak story were more likely to say they thought Snowden had done the right thing. Among those who said they had "heard a lot" about the story, 50 percent said that they thought Snowden had done the right thing, and 34 percent said he had done the wrong thing." [HuffPost]
Other polls show division or modest support - Three other surveys show generally similar findings. A Gallup poll found Americans divided on whether Snowden did the right thing (44 percent) or the wrong thing (42 percent). A Reuters/Ipsos online poll found 31 percent willing to label Snowden as a "patriot," 23 percent as a "traitor" and 46 percent who could apply neither label. A Time poll found significantly more support for Snowden's actions -- 54 percent described the leaking as a "good thing," 30 percent described it as a "bad thing." [Reuters, Gallup, Time]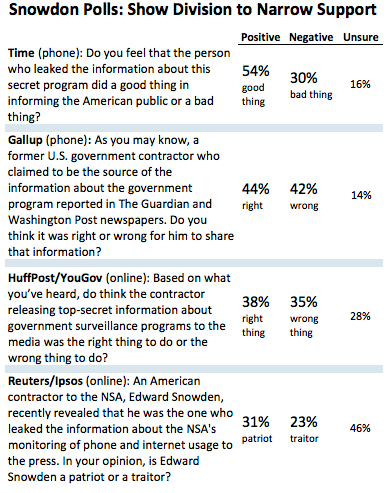 Watch wording and context - Given that Snowden and the NSA controversy remain unfamiliar to many Americans, the text of these questions can have great influence over the results. Note, for example, that Time's question asked if Snowden "did a good thing in informing the American public or a bad thing" (emphasis added), while others offered more classically balanced answer options ("right or wrong," "right thing to do or the wrong thing to do," "patriot or traitor"). Also, the Snowdon question was typically the last or nearly last question asked in each poll about the NSA surveillance issue, so it could have been influenced by questions that came earlier. Before asking about Snowden's actions, for example, the Time poll read a series of not-exactly-neutral statements: They asked respondents if they believed "the courts will overturn the program and put a stop to it," if "the government will be forced to reduce or eliminate this surveillance program," and if "we'll find out that the program is even bigger and more widespread than we know even now."
CONCERNS ABOUT PRIVACY - The National Journal's Ron Brownstein, reporting on a new Allstate/National Journal Heartland Monitor Poll on privacy, data collection and surveillance fielded before last week's disclosures about the NSA: "Most Americans fear their privacy is eroding...In an era of spreading surveillance cameras, cascading revelations about government's collection of domestic and international communications, and online advertising triggered by users' purchasing history, the survey said that an overwhelming majority of Americans believe that business, government, social-media sites, and other groups are accessing their most personal information without their consent. Although most Americans see many benefits in the ongoing communication revolution, the poll found a consistent current of concern about the costs to privacy that come with these advances...That ambivalence is crystallized in the survey's finding that a majority of adults believe the explosive increase in data available to business, law enforcement, and government is a more negative than positive development...On many of these questions, young people take a more benign view of the changes than their elders. On many questions, people with a college education are also more likely to see a net benefit from the new communications opportunities than are those without degrees. And in some cases, such as the expanded use of surveillance cameras, the survey said that most Americans were willing to sacrifice privacy to advance other goals, such as enhancing security. [National Journal, topline results]
POST-PEW POLL ON SEXUAL ASSAULT IN THE MILITARY: Pew Research: "A substantial majority of Americans (81%) view sexual assault in the military as an extremely or very important issue. But the public does not believe the problem of sexual assault is a bigger problem in the military than outside it: Just 11% say it is more of a problem inside the military, 23% say it is more of a problem outside the military, while 63% say it is about the same. And while 40% say the reports of sexual assault in the military represent underlying problems with military culture, a majority (54%) says they represent individual acts of misconduct." [Pew Research]
Division on whether Congress should step in - The Washington Post's Craig Whitlock and Jon Cohen: "Mirroring a sharp split among lawmakers, 45 percent of the public says Congress should step in and change military law as a primary means to tackle the issue. About the same number, 44 percent, says the problem should be handled by military leaders within the chain of command. Few people, however, have a great deal of confidence in either the Congress or military leaders to handle the situation, but Congress fares worse. Overall, twice as many Americans say they have 'no confidence at all' in Congress."
[WaPost]
Gallup shows more confidence in military than Congress - A new Gallup survey that did not ask about sexual assault: "Americans' confidence in Congress as an institution is down to 10%, ranking the legislative body last on a list of 16 societal institutions for the fourth straight year. This is the lowest level of confidence Gallup has found, not only for Congress, but for any institution on record. Americans remain most confident in the military, at 76%." [Gallup]
PEW LGBT SURVEY - On Thursday, the Pew Research Center released a report on a new nationally representative, online survey of America's lesbian, gay, bisexual and transgender adults: "An overwhelming share...(92%) say society has become more accepting of them in the past decade and an equal number expect it to grow even more accepting in the decade ahead. They attribute the changes to a variety of factors, from people knowing and interacting with someone who is LGBT, to advocacy on their behalf by high-profile public figures, to LGBT adults raising families." [Pew Research]
Sampled from a pre-recruited panel - From a separate "Explainer" on how Pew Research conducted the survey: "The survey's respondents are members of a large, randomly selected and nationally representative sample of households recruited and maintained by the GfK Group, a research company we've worked with in the past." They used the GfK "KnowledgePanel," formerly operated by the company Knowledge Networks. Why use an online panel? "Part of the decision was driven by the fact that attempting to locate a random sample of the LGBT population with a telephone or in-person survey is very expensive, given that such a small percentage of the adult population identifies as LGBT...In addition, the online, self-administered method provides certain advantages when studying sensitive topics. One of the most important is that a respondent is able to answer our questions privately and need not worry that other people will overhear answers to the questions." [Pew Research]
Have something to add to the Pollster Update? Send tips/quotes/stories/charts/new data/juicy miscellanea to Mark Blumenthal (mark@huffingtonpost.com) or Ariel Edwards-Levy (Ariel.Edwards-Levy@huffingtonpost.com).
EARLY VOTING's 'MODEST' RISE IN 2012 - GMU political scientist and turnout guru Michael McDonald weighs in on an uptick in early voting in 2012: "The percentage of voters who cast their ballot before Election Day modestly increased from 29.7 percent to 31.6 percent from 2008 to 2012, according to a Census Bureau survey. The Current Population Survey, November Voting and Registration Supplement asks respondents if they voted on Election Day or before Election Day. Thus, the Census Bureau counts persons who voted by any means of "early voting" as voting prior to Election Day, be it by a mail ballot or in-person at an election office or special early voting polling place. The increase of 1.9 percentage points in early voting rates in the past two presidential elections is in stark contrast to the sharp rise of 9.7 percentage points from 2004 to 2008, from 20.0% to 29.7%. [HuffPost]
BARBOUR: 'POLLS ARE LIKE STREETCARS' - At a panel on immigration reform sponsored by the Bipartisan Policy Center, Gov. Haley Barbour (R-Miss.) dismissed polling saying Republicans don't want reform: "We have polling all over the lot...The polling is kind of like street cars, if you miss one there will be another one in about 10 minutes." Well, ok then. [@danmericaCNN, h/t @LoganDobson, BPC]
POLLSTER UPDATE VIA EMAIL! - You can receive this daily update every weekday via email! Just enter your email address in the box on the upper right corner of this page, and click "sign up." That's all there is to it (and you can unsubscribe anytime). The Pollster Updates will continue to publish online, but if you'd prefer the convenience of email, it's just one click away.
THURSDAY'S 'OUTLIERS' - Links to more news at the intersection of polling, politics and political data:
-Automated survey of by Republican-affiliated Harper Polling finds Markey leading Gomez, 49 to 37 percent, in Massachusetts. [Conservative Intel]
-Cook Political Report moves the Massachusetts Senate race to "lean D." [@JenniferEDuffy]
-MassInc Polling Group explains why Gabriel Gomez rarely mentions the Tea Party in Massachusetts. [MassInc]
-Cory Booker begins with huge early lead among New Jersey Democratic primary voters. [Monmouth University]
-Democratic Governor John Hickenlooper running roughly even against Republican Tom Tancredo in Colorado. [Quinnipiac]
-Three pro- reform groups release automated polls in 29 states, conducted by PPP (D) and Harper Polling (R), showing support for immigration reform. [Politico]
-Harry Enten says the NSA leaks are eroding trust in government and holding down Obama's ratings as economic confidence rises. [Guardian]
-Chris Bowers argues for ignoring NSA leak polls. [DailyKos]
-Non-Hispanic whites "recorded more deaths than births last year for the first time ever" last year. [USA Today]
-Cable television embraces big data. [LightReading, via @AlexLundry]
-U.S. Rep. Ted Deutsch (D-Fla.) conducts a "survey" on PRISM and the NSA; requires that respondents provide full name, email address and "grant Congressman Ted Deutch permission to contact you." [Ted Deutch]
-An Onion slide show delivers what it promises: 40 numbers under 40. [Onion]