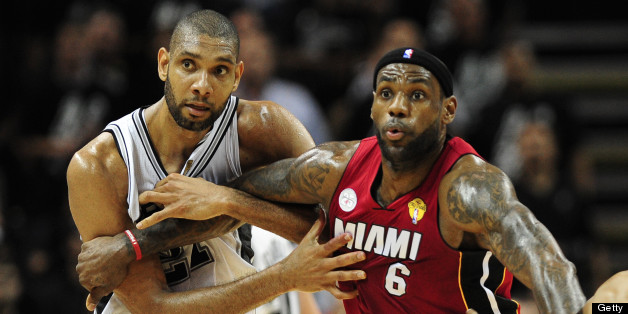 After a pair of surprise stars lifted them to a blowout win in Game 3 of the NBA Finals, the San Antonio Spurs have a chance to push LeBron James and the Miami Heat to the brink of elimination on Thursday night.
Miami Heat
vs.
San Antonio Spurs
AT&T Center
San Antonio, TX
9:00 PM ET, June 13, 2013
The Heat were hit with a barrage of three-pointers on Tuesday, most of them coming from San Antonio's Gary Neal and Danny Green. While those two were having career nights, LeBron James was held under 20 points for the third game in a row. The four-time MVP had just four points at halftime of Game 3 and later summed up his performance by saying that he "played like shit."
"I take full responsibility for our team's performance last night," James said on Wednesday, via CBS Sports. "Me as a leader, I can't afford to perform like I did last night and expect us to win on the road, it's that simple. So I'm putting all the pressure on my chest, on my shoulders to come through for our team. That's the way it is."
Will LeBron get back on track in Game 4? Will the Spurs' shooters stay hot? How serious is Tony Parker's hamstring injury? Can the Spurs win without him at full speed?
Scroll down for live updates.
06/13/2013 11:42 PM EDT
Wade Postgame Interview
"It's a three-game series." - Wade.
06/13/2013 11:41 PM EDT
GAME OVER
Miami Heat win 109-93. The series is tied at 2.
06/13/2013 11:40 PM EDT
MiamiBig 3
LeBron has 33. Wade has 32. Bosh has 20.
Duncan has 20. Parker has 15. Ginobili has 5.
06/13/2013 11:39 PM EDT
Padding
LeBron nails 2 straight jumpers and now he has 30 points. 106-92 Miami with 45 seconds left.
06/13/2013 11:35 PM EDT
Good Company
Dwyane Wade: 1st player with 30 pts, 6 steals in a Finals game since 1988 (Isiah Thomas, Pistons).

— ESPN Stats & Info (@ESPNStatsInfo) June 14, 2013
06/13/2013 11:31 PM EDT
Annnnnnnnd Parker and Green coming out. You may think there are 4 min left, but Gregg Popovich is telling you this game is over.

— Rachel Nichols (@Rachel__Nichols) 4 years ago
06/13/2013 11:31 PM EDT
DeJuan Blair about to check in. And.....fin

— J.A. Adande (@jadande) 4 years ago
06/13/2013 11:30 PM EDT
Tony comes out, there's another turnover, and this one is probably over.

— Pounding the Rock (@poundingtherock) 4 years ago
06/13/2013 11:29 PM EDT
The Spurs are just evaporating here.

— Dan McCarney (@danmccarneysaen) 2 years ago
06/13/2013 11:28 PM EDT
Miami Pulling Away
Wade's layup gives Miami a 100-85 lead. Wade has just been unstoppable this entire game. Under 5 minutes to go.