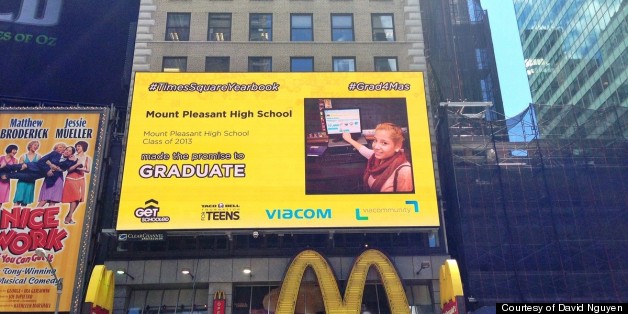 On Wednesday, a prominent Times Square billboard featured pictures of people you wouldn't expect to see amid hanging advertisements for Broadway productions and McDonald's Golden Arches. Instead of promoting the latest H&M campaign or a new NBC series, this key space in New York's advertising hub promoted everyday high school students striving to graduate.
The project was called the Times Square Yearbook, and for one hour it filled the location with images of students like Jabrese S. from Lakewood High, Terrilee B. from Port St. Joe High and Molly F. from Northwestern High, all of whom have pledged to get their high school diploma.
GetSchooled, a nonprofit organization that strives to advance high school graduation rates, collaborated on the project with Viacom and the Taco Bell Foundation for Teens, Get Schooled Executive Director Marie Groark told The Huffington Post.
Earlier this month, GetSchooled asked students to submit pictures of themselves and an explanation of why they were promising to graduate, in return for a chance of having their picture on a Times Square billboard. Over 1,000 photos were submitted. About 400 were chosen.
"We [wanted to] put something together where we would recognize young people who have persisted and promised to continue to persist, and recognize them for their academic efforts," explained Groark over the phone.
She went on to say that for many of the students chosen, graduating high school is a road ridden with obstacles. Some will be the first in their family to pass this milestone.
Students whose pictures were selected took to Twitter to share their pride:
Blessed Beyond Measures! Thank You @getschooled You Are Appreciated! <3 Much Love. twitter.com/VictoriaHadnot…

— Victoria Hadnot (@VictoriaHadnot) June 12, 2013
OMGOMGOMGOMGOMG I WAS IN THE #TIMESSQUAREYEARBOOK COOOOOL @getschooled twitter.com/tylaraviane_/s…

— Da Beebz✌ (@tylaraviane_) June 12, 2013
Regarding the positive feedback from teens, Groark said: "It's just been fantastic." She hopes to see future edition of the Times Square Yearbook, and that students will be able to look forward to seeing themselves in lights every year.
Click through the slideshow (below) to see more photos and videos of the Times Square Yearbook.
PHOTO GALLERY
Times Square Yearbook 2013