A $6,000 reward is beginning offered for information that leads to the arrest and conviction of the person or persons responsible for a savage beating of a mother snapping turtle.
The Wisconsin Department of Natural Resources reports that the fatal beating took place at Delbrook Golf Course in Delavan between 7:30 and 9:30 a.m. on Monday.
From the department's Facebook page:
The female turtle, looking for a place to lay her eggs, was found lying in the sand in a bunker with holes in its shell. It was also struck in the right eye, a wound which appeared to have been from a golf club.
The turtle was scheduled to have surgery the following day, but the department posted an update saying she didn't survive the night.
WBAY reports that "Wildlife rehabilitators say the turtle no longer had any eggs, but the warden and course superintendent said no eggs were found in the bunker."
The Global Conservation Group of Watertown has offered a $1,000 reward for information on the case and PETA has put up an additional $5,000.
In a statement obtained by the Journal Sentinel, PETA Director Martin Mersereau lashed out at the turtle's attackers.
"Animal abusers are cowards," Mersereau said. "They take their issues out on the most defenseless beings available to them."
Anyone with tips on the case is asked to call the DNR hotline at 1-800-TIP-WDNR or 1-800-847-9367.
See a GRAPHIC photo of the turtle below: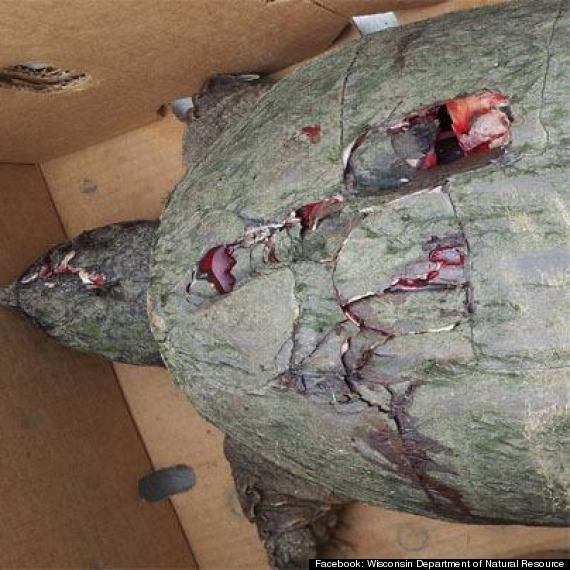 BEFORE YOU GO
PHOTO GALLERY
Beastly Accusations