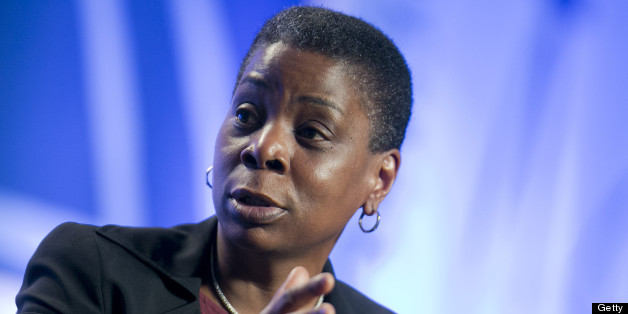 NEW YORK -- Xerox CEO Ursula Burns is one of the few women at the top of Corporate America, but she has some good news for others looking to get there.
"A tidal wave is coming," the first female African American chief executive officer of a Fortune 500 company told a group at the Prism awards luncheon, a fundraiser for New York University's School of Continuing and Professional Studies and Graphic Communications Management and Technology graduate program.
Burns, referring to the large share of women in America's colleges, argued that executives would be "silly business people" if they didn't decide to draw on that pool soon. She added that the most successful corporations will be ahead of the curve in hiring women and minorities.
"In some ways we're stuck," Burns, the event's honoree, said. "We will get unstuck because there will be a way that we can't stop it from happening."
Burns' comments come at a time when the plight of working women has taken on renewed significance. Facebook chief operating officer Sheryl Sandberg's recent book, Lean In, prompted discussions at water coolers, dinner tables and on television about the best way to boost women in the workplace.
Though Burns said she was optimistic for the future, she bemoaned the current lack of women leaders. Over the last decade, the number of women on corporate boards and in high-level executive positions has largely stagnated.
"Basically there's been no progress," Burns said.
Indeed, Burns is just one of 21 women, who hold the title of an S&P 500 CEO. That's just 4 percent. In addition, more than one-third of public companies had no woman senior officers last year, according to a survey from Catalyst, an organization aimed at expanding business opportunities for women.
Women workers at all levels face barriers to advancement when it comes to pay and promotions. Working women make just 80 percent of what their male counterparts earn and tend to be clustered in sectors that pay less than those dominated by men.
Burns, who said she and Sandberg "go way back," had her own advice for women trying to advance their careers: Be the best at what you do and work hard -- two steps she said young people often try to skip on their climb to the top.
"They think you can get to this end just participating nine to five," Burns said.
And finally, the 33-year Xerox veteran advised ambitious young women to work somewhere they're passionate about.
Those tidbits were a bit different from another gem Burns offered (albeit in jest) at a conference earlier this year.
"So the secret is to marry someone 20 years older," she told the audience in March.

BEFORE YOU GO
PHOTO GALLERY
World's Most Powerful Women In 2013: Forbes