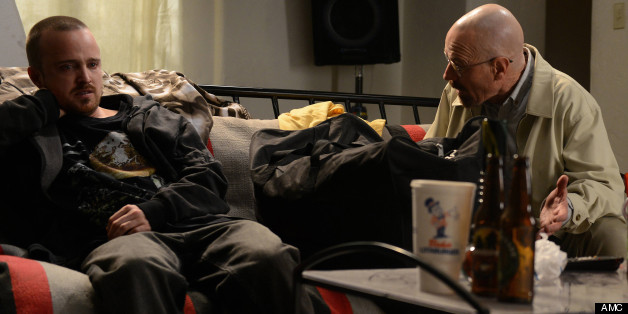 With the final episodes of "Breaking Bad" just under two months away from premiering, series creator Vince Gilligan sat down for an interview with Entertainment Weekly to preview the AMC meth drama's home stretch. So how will it all end for Walter White? Gilligan dropped hints about a fast-paced, bloody final eight episodes.
The creator hinted that there could be some major character deaths coming. "As the movie title goes, there will be blood," he quipped, before stressing that non-violent, emotional character moments would also be "truly satisfying and truly shocking and jarring."
He also wants viewers to know that "Breaking Bad" still has a lot of ground to cover plot-wise. "I have surprised myself at how much story there was left to tell and how quickly we tell it," he told EW. "You need to really settle down on the couch and pay close attention because it's going to come at you fast and furious in the final eight episodes."
At a recent panel to benefit 826LA in Los Angeles, Gilligan admitted that he cried while writing the series' final episode and in an interview with USA Today, he also said that he spent "a lot of sleepless nights" trying to perfect the finale. "My big fear was I would wake up one day two years from now or five years from now saying, 'Oh my god, I just realized how we should have ended it,'" Gilligan explained.
But, he seems satisfied now, telling EW that he feels "cautiously optimistic" that the "Breaking Bad" series finale will satisfy viewers. "I feel like this ending represents on some level, however small, something of a victory for Walter White. Read into that what you will. And try to be as open-minded as possible when you watch this episode, because it may not indeed feel like a victory."
Click over to EW to read Vince Gilligan's interview in its entirety.
The final eight episodes of "Breaking Bad" premiere Sunday, August 11 at 9 p.m. ET on AMC.
PHOTO GALLERY
Breaking Bad Season 5 Gallery Images
BEFORE YOU GO