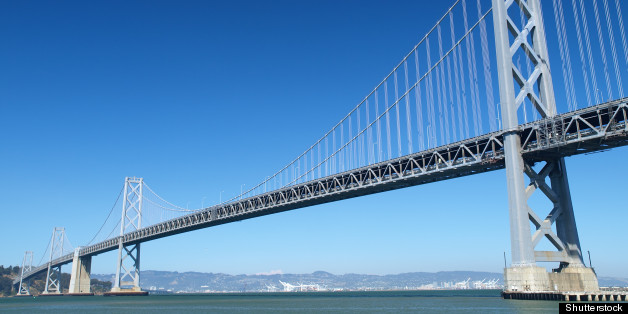 People get into politics for all kinds of reasons. Some crave power, others have a specific policy agenda.
But the best politicians do the thankless, backbreaking work of shaking hands, kissing babies and sitting through endless hours of mind-numbing subcommittee meetings for the best reason: getting civil structures named after them.
For the past half century, there's arguably been no California politician more successful than Willie Brown. The Golden State's consummate dealmaker, former San Francisco Mayor and current San Francisco Chronicle columnist served as the speaker of the state Assembly for a record-breaking 15 years.
Now a group of legislators want to rename the Bay Bridge in his honor.
A resolution to rename the bridge was introduced earlier this week by Assemblyman Isadore Hall, III (D-Compton) at the request of the California NAACP.
"I haven't got his permission, but I'm sure he'll be OK with it," Hall told the San Francisco Chronicle. "He is an iconic figure not just for African Americans, but for all people across the state of California."
"Mr. Brown is widely regarded as one of the most influential politicians of the late 20th century," reads the resolution, "and has been at the center of California politics, government and civic life for an astonishing four decades."
The Sacramento Bee reports:
Brown was mayor of San Francisco when Gov. Pete Wilson signed legislation doubling tolls of five San Francisco Bay Area Bridges area bridges to pay for seismic upgrading and repairs on the Bay Bridge in 1997. Brown battled with lawmakers over the design and location of the bridge, which led to years of delays. In a column in the San Francisco Chronicle in February, Brown said it was worth the wait.
If approved, signs advertising the newly rechristened bridge will be posted along the span as soon as enough private funds are raised to cover their cost.
Technically the resolution wouldn't rename the whole bridge after Brown--just the western span connecting San Francisco and Yerba Buena Island.
This is a detail the famously-savvy Brown would likely appreciate, as costly problems with the ongoing construction of the bridge's eastern span have embarrassed many involved.
This isn't the first time there's been a push to name a major Bay Area landmark after "Da Mayor." In 2009, there was an effort led by then-Mayor Gavin Newsom to rename San Francisco's 3rd Street "Willie L. Brown, Jr. Boulevard," but the plan was scuttled amid local opposition.
Additionally, this isn't the first time someone has attempted to name the Bay Bridge's western span after a famous San Francisco resident. In 2004, the San Francisco Board of Supervisors passed a resolution suggesting the span be named after the legendary 19th Century San Francisco gadfly Joshua Norton I, Emperor of the United States and Protector of Mexico. An effort that, sadly, never came to pass.
BEFORE YOU GO
PHOTO GALLERY
Bay Bridge Construction