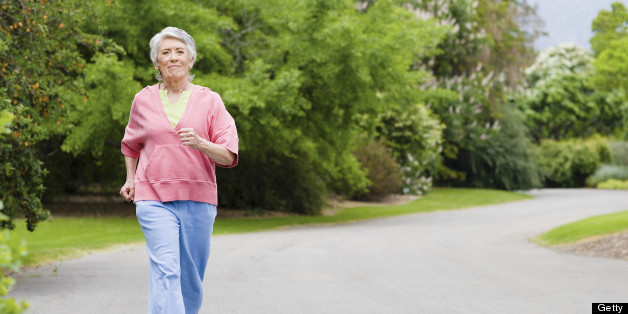 Here's one thing older adults can do that could help keep their blood sugar in check after meals: Take a 15-minute walk.
In a small new study, researchers found that walking at an easy-to-moderate pace for just 15 minutes after eating a meal helps to lower blood sugar over a 24-hour time period -- just as much as walking for 45 minutes.
"The muscle contractions connected with short walks were immediately effective in blunting the potentially damaging elevations in post-meal blood sugar commonly observed in older people," study researcher Loretta DiPietro, Ph.D., MPH, chair of the George Washington University School of Public Health and Health Services Department of Exercise Science, said in a statement.
If confirmed by other research, the findings show that this could be an effective strategy to lower diabetes risk among people who may be at risk for the condition, the researchers said.
"These findings are good news for people in their 70s and 80s who may feel more capable of engaging in intermittent physical activity on a daily basis, especially if the short walks can be combined with running errands or walking the dog," DiPietro added in the statement.
The study, published in the journal Diabetes Care, included 10 people age 60 and older. All of the study participants were healthy, but at risk for Type 2 diabetes because they didn't exercise a lot and had fasting blood sugar levels that were higher than normal.
Study participants stayed for two days in a whole-room calorimeter (which can calculate a person's energy expenditure) where they did a series of exercise scenarios. For the first day in each of the three exercise scenarios, the study participants didn't have to take any walks at all (to serve as their own controls). But for the second day of each of the exercise scenarios, the participants either took a 15-minute walk after eating their meals for the day, or a 45-minute walk at 10:30 a.m., or a 45-minute walk in the afternoon.
Researchers found that the participants had the best blood sugar regulation after taking a 15-minute walk after dinner. They noted that evening meals are often the biggest, which then translates to a big spike in blood sugar levels that ends up lasting into the next morning, but that the walks seemed to stop this huge increase from happening.
Past research suggests exercise can help people who already have Type 2 diabetes to manage their blood sugar. A review of studies published in 2011 in the Journal of the American Medical Association showed that structured exercise programs (versus simply receiving exercise advice), as well as longer periods of exercise (versus more intense exercise), seemed to improve blood sugar levels with Type 2 diabetes, HealthDay reported.
BEFORE YOU GO
PHOTO GALLERY
How To Move More This Weekend