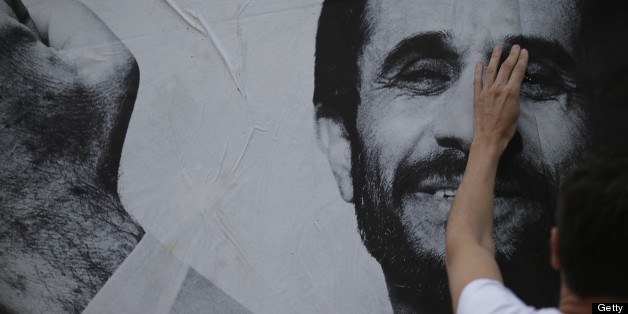 Spending our days on the interwebs has its advantages, one being that we come across lots of excellent pieces of journalism. Every week, we'll bring you our favorite online reads that didn't appear on our site. Disagree with the selection? Leave your suggestions in the comments or tweet #bestreads at @HuffPostWorld.
Why We Will Miss Mahmoud Ahmadinejad
Foreign Policy -- Reza Aslan
Reza Aslan argues that while much of Mahmoud Ahmadinejad's policies have been controversial -- to say the least -- the West may just come to miss Iran's hardline president. "The fact remains that no president in the history of the Islamic Republic has so openly challenged the ruling religious hierarchy, and so brazenly tried to channel the government's decision-making powers away from the unelected clerical bodies that hold sway in Iran."
My Week With The North Korean Hockey Team
Deadspin -- Peter Cox
What's the last country you'd expect in the third division of the Hockey World Championship? It may just be North Korea. Peter Cox spent a week with the Hermit Kingdom's hockey team right when the isolated nation's Kim Jong-Un was making international headlines with belligerent rhetoric. Cox's experiences provide a fascinating insight into North Korean society and culture.
Family Of Hezbollah Fighter "Refuse To Mourn"
Al Jazeera -- Nour Samaha
Mohammad Ali Janbin was in Syria for 24 days. When the Hezbollah fighter's body was returned to his parents' village in Lebanon, Janbin's mother threw rice over his body. "For me, it's a celebration," Um Mohammad told Al Jazeera. Her son had returned a martyr, shot by a sniper in Syria's unabating fighting.
Do You Know Who Is Detained At Guantanamo Bay?
Amnesty International -- Justin Mazzola
The remaining prisoners at Guantanamo Bay have made headlines in previous weeks because of an ongoing hunger strike. But do you know who is being held at the infamous detention center?
Pakistan's Polio War
Financial Times -- Willem Marx
Polio is on the rise in Pakistan, but militants are boycotting a large-scale government vaccination campaign. According to the Financial Times, the CIA's use of a fake Hepatitis B vaccination campaign to gather information on Osama Bin Laden "fueled extremists' long-held suspicions that Pakistan's various inoculation efforts were in reality just cover for US information-gathering, and that the nation's Pashtun population was the number one target."