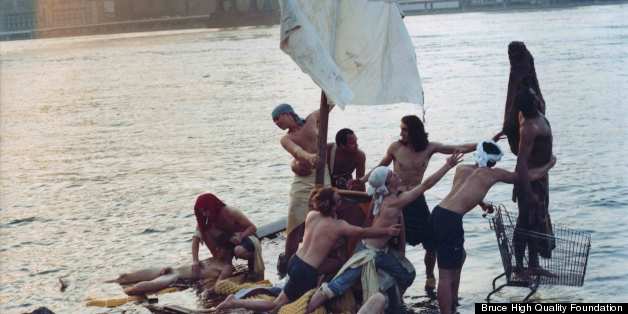 The mantra of the Bruce High Quality Foundation is as follows: to "invest the experience of public space with wonder, to resurrect art history from the bowels of despair, and to impregnate the institutions of art with the joy of man's desiring."
It's an alluring statement, made by an anonymous art collective that seeks to expose the inadequacies of the art-making machinery at every chance they get. Whether it's through performance art, painting or satirical adaptations of George Orwell stories, the troupe of Bruces -- as the members of the collective are called -- is always eager to combine comedy and criticism targeted directly at the institutional ties that bind the art world.
Based in New York City, the group is the subject of an upcoming exhibit at the Brooklyn Museum, which, according to a tongue-in-cheek press release, is set to feature "less than 17,000 works" by BHQF artists. While that description is intentionally vague, the Bruces have released an even more confusing trailer for the big hometown show, featuring footage from a familiar Stanley Kubrick film, "The Shining." Not even bothering to do away with the movie's original scrolling credits, the hilarious minute-long teaser adds only a few lines about the group's first-ever retrospective, accompanied by the truly terrible trance music hit, "Sandstorm" by DJ Darude.
This much we know: "Ode to Joy, 2001-2013" will feature an array of works created by the BHQF since it was founded on September 11, 2001. The inception date is part of the foundation's mythical history; a fictional biography that claims the group was formed in honor of a sculptor named Bruce High Quality, who supposedly died in the attacks that day.
It's this reappropriation that the collective does best, staging scenes from iconic artworks like Théodore Géricault's "The Raft of Medusa" or forming its own free, unaccredited art school -- an obvious nod to Cooper Union, the alma mater of many Bruces. Gobbling up the aspects of the art world we know best and spitting them out in new, redefined terms, the group etches away at the public image of contemporary art, with a sense of humor in tow.
Scroll through the slideshow below for a look at some of Bruce High Quality's past works, and don't forget to watch the troupe's trailer for "Ode to Joy, 2001-2013," on view at the Brooklyn Museum from June 28 to September 22.
PHOTO GALLERY
Bruce High Quality Foundation