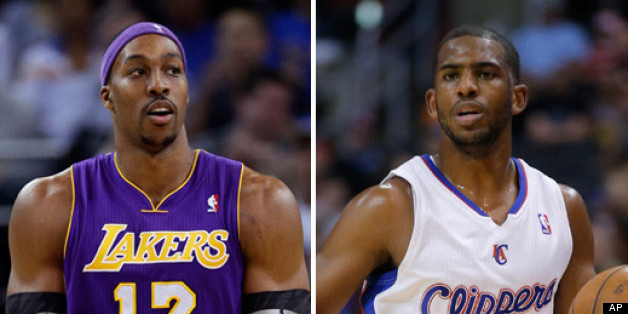 The Lakers' Dwightmare will now be keeping the members of the the other team in Los Angeles up at night.
Citing unnamed "league sources," ESPN's Chris Broussard reported on Friday that Howard and Chris Paul have been in contact recently about potentially signing with the same team this summer. Both will be unrestricted free agents starting on July 1.
According to Broussard's sources, both would prefer to team up on the Clippers, but that would require a sign-and-trade with the Lakers for Howard. The Hawks are reportedly an option for both free agents as the team has enough salary cap room for two max-contracts.
In May, Broussard reported that Paul was "angry" with the Clippers organization after being implicated in the team's decision to part ways with head coach Vinny Del Negro. Clippers owner Donald Sterling seemed to throw Paul under the bus when T.J. Simers of the Los Angeles Times asked him whether the decision not to bring back Del Negro was made "just to hang on to Chris Paul."
As for Howard, Ken Berger of CBS Sports reported in May that the seven-time All-Star was "intrigued" by the Houston Rockets and Dallas Mavericks. The Hawks and Warriors were also added to the list of possible suitors by Mark Medina of the Long Beach Press-Telegram.
Insistent on impacting Howard's free agent decision, Kobe Bryant says he'll have the "final word" with the coveted center.
BEFORE YOU GO
PHOTO GALLERY
101 NBA Posterizations