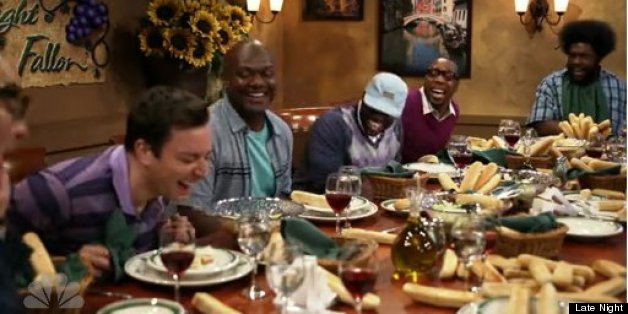 Olive Garden announced last year that it was getting rid of its famous slogan, "When you're here, you're family." But the slogan isn't just going into the tagline graveyard -- it has found a new home.
Last night, Dave George, the president of Olive Garden, "officially" signed away the slogan to Late Night With Jimmy Fallon. It was an Olive Garden-Fallon love fest, in which all the audience members got free t-shirts with the new slogan and $100 gift cards to the restaurant.
The best part of the segment occurs in the last minute, though, when Fallon and The Roots premiere a spot-on Olive Garden parody ad. It's all there -- slightly goofy wardrobe choices, incessant laughter, cheesy dialogue, endless breadsticks and more.
WATCH: