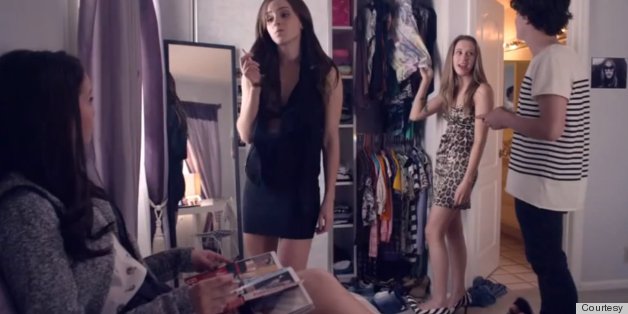 Imagine hanging out in Miranda Kerr's house. How about Paris Hilton's? Or Rachel Bilson's? Well, in "The Bling Ring," the much-anticipated Sofia Coppola film premiering today, you'll be able to see how a group of teenagers got to do just that. Except they did it all illegally. The film, based on true events that occurred from October 2008 to August 2009, tells the story of the famous "Hollywood Hills Burglar Bunch," a mix of privileged kids in Calabasas, California who had an urge to live life like celebs. They wanted to imitate them so desperately that they broke into their homes and stole up to $3 million worth of the stars' clothing and accessories.
The six teenagers -- four girls and two guys -- snuck into celebrities' homes while they were away at premieres or events and treated themselves to Louis Vuitton bags and Rolex watches. Paris Hilton, one of the victims (who also has a small cameo in the film!), recently said that watching the movie made her very emotional. "During some parts of it, I literally had tears in my eyes and I wanted to cry," the socialite told Vulture.
While the group pulled off these elaborate robberies for almost an entire year, nothing lasts forever. Surveillance cameras eventually caught up with them and, one by one, the teens each went down. Alexis Neiers -- the most famous of the bunch -- was apparently found out when police discovered Rachel Bilson's Marc Jacobs bag and Lindsay Lohan's Chanel necklace in her younger sister's bedroom.
Hey, sometimes you just have to fake it 'till you (don't) make it.
In honor of "The Bling Ring" being released today, we gathered up some other unforgettable fashion crimes. Who could forget when Winona Ryder went on a bender and stole items from Saks? Or Lindsay Lohan's many accusations of snagging jewelry and clothing from friends and magazine shoots? There are also some mind-blowing jewelry heists, like 2008's Harry Winston cross-dressing debacle, and the time when a group of thieves backed a Mercedes-Benz into a Gucci store in England, stole items, and then drove away in a different car!
Click through to see just how far some people go to get their hands on designer frocks and expensive jewels! Do these crazy stories inspire you to see "The Bling Ring" this week?
PHOTO GALLERY
The Most Memorable Fashion Heists
Want more? Be sure to check out HuffPost Style on Twitter, Facebook, Tumblr, Pinterest and Instagram at @HuffPostStyle.