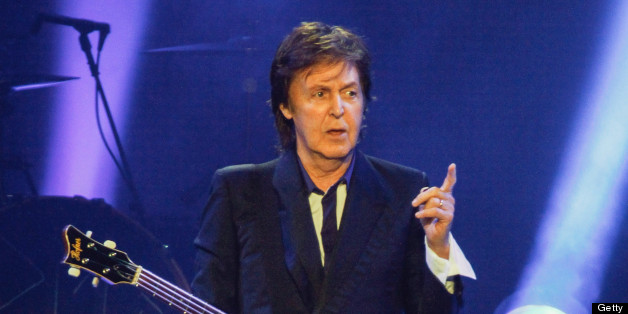 Paul McCartney was just named Music's Coolest Dad by iHeartRadio listeners, and he's perhaps rewarding youthful fans with a crossover treat. "Out of Sight," McCartney's "EDM song," a thumping, electro-rock stadium anthem composed by the Bloody Beetroots, premiered on Rolling Stone today.
Sir Bob Cornelius Rifo, the masked crusader who performs as The Bloody Beetroots, is known for pushing the envelope when it comes to electronic music. Late last year, he released a single as sheet music and asked fans to play it before the official version was released. "Out of Sight" works because Rifo doesn't make the brand of pure, upbeat progressive house that's most familiar to dance music festival mainstage audiences, but rather an intriguing blend of punk, rock and dance. Rifo's earlier work with Dennis Lyxzén of Refused is another good example of the interpolation of punk and electronic elements.
For now, the song is only available on Rolling Stone, where it's noted that McCartney himself is no stranger to electronic music. The Beatles alum's 1980 "McCartney II" album featured an 8-bit sound that was ahead of its time (and thus underperformed), and he has long worked with Youth as the Fireman (Youth also appears on "Out of Sight.").
What do you make of McCartney's foray into the once-again trendy world of electronic dance music? Let us know in the comments.
BEFORE YOU GO
PHOTO GALLERY
The Bloody Beetroots