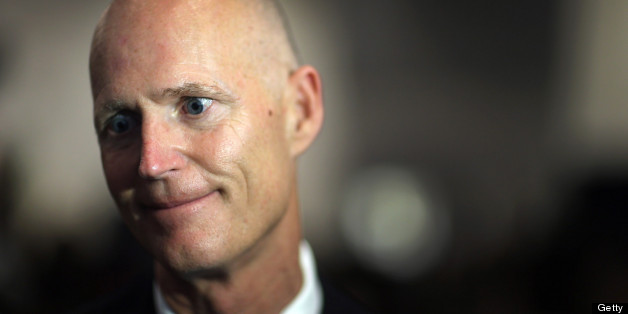 Rick Scott is celebrating a deal to bring 3,000 jobs with online retailer Amazon.com to Florida by 2016, but not everyone is going to be happy.
When the company opens an operations center in the Sunshine State, Floridians will have to start paying sales tax on all Amazon purchases.
Previously, Florida residents could shop Amazon without having to pay 6 percent tax on purchases thanks to a 1992 U.S. Supreme Court ruling that an Internet company would be forced to collect sales tax only in states in which they have a physical presence.
Just last month, Scott's office said he had rejected the deal to bring Amazon jobs to Florida because it would effectively result in higher taxes for Floridians. The governor's spokeswoman Melissa Sellers told the Tampa Bay Times that the new deal was not a reversal of his previous stance but was instead a "culmination of ongoing discussions."
Scott, who is campaigning for reelection in 2014 on his jobs creation record, heralded the announcement.
"Amazon's commitment to create more than 3,000 new jobs in Florida is further proof that we've turned our economy around. Amazon will continue to work with Enterprise Florida on its ongoing projects which will include a return on any taxpayer investment, and we look forward to the company's announcements as it chooses locations and creates jobs in Florida," Scott said in a statement.
It wasn't immediately know if Amazon is receiving incentives from the state through its embattled economic development arm, Enterprise Florida. The Times reports about a third of the jobs are expected to be placed at a new Amazon warehouse in Ruskin, and Hillsborough County officials there have been asked to approve nearly $6.6 million in financial incentives for the retail giant.
375 of those positions would be "higher-wage quality jobs," the county told the Times, with average annual pay of $47,581.
Amazon is expected to spend some $300 million on new warehouses, according to the Associated Press.
The company "will begin collecting Florida sales tax at such time as it is required under current Florida law," read the announcement from the governor's office.
BEFORE YOU GO
PHOTO GALLERY
Inside One Of Amazon's Mind-Boggling Warehouses