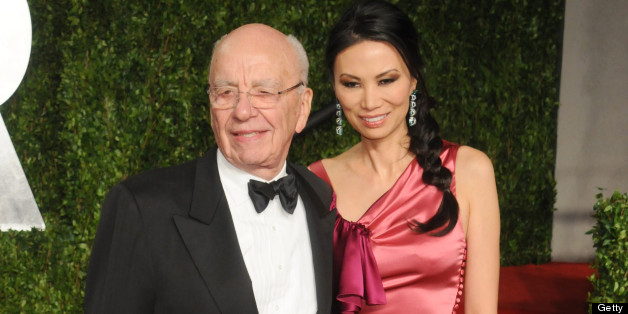 The announcement on Wednesday of Rupert Murdoch's looming divorce from his wife, Wendi Deng Murdoch, provided the media world with the largest morsel of gossip it has had to feast on in quite some time.
Journalists, recently preoccupied with government surveillance of their records, and the collection of their email data, and soft-spoken whistleblowers trapped in Hong Kong, could briefly turn to fizzier matters, such as why the Murdochs were splitting, and how much Wendi would be getting from her very rich spouse. There was even heavy irony in the situation, since Murdoch's personal divorce is coming as his company splits in two.
The divorce came as a bolt from the blue. Not surprisingly, the rumors came hard and fast on Wednesday, as Murdochian Kremlinologists parsed any available signs of trouble. After all, most people came to know Wendi due to her ferocious dispatching of a foam-pie-wielding protester in 2011. What had happened since that impressive show of loyalty?
His biographer, Michael Wolff, contended in a column that the signs had been there for years, even before the pie incident:
Murdoch had told his oldest son, Lachlan, that he'd concluded that marrying Wendi was a "mistake" – or so Lachlan, along with his siblings never a fan of his father's remarriage, was telling people. And during the many months that I was interviewing Murdoch in 2008 for my book about him, we would sometimes meet on weekend mornings at his apartment where it quite appeared he had not slept the night – but, rather, had arrived minutes before me with clothes bundled in his briefcase.
Robert Peston, the well-connected business correspondent for the BBC, had even more tantalizing hints to drop:
Am also told that undisclosed reasons for Murdoch divorcing Deng are jaw-dropping - & hate myself for wanting to know what they are

— Robert Peston (@Peston) June 13, 2013
New York magazine's Gabriel Sherman provided some theories of his own:
Indeed, for years, it seemed apparent to Rupert's lieutenants that he was living a separate life from Wendi and was okay with it...the signs were there for those who looked. One executive mentioned that Wendi's socialite lifestyle created tensions inside the company.
According to Friday's The Hollywood Reporter, the magazine reached out to the office of UK's former prime minister, amidst rumors that Deng and Tony Blair were "romantically involved:"
When contacted by The Hollywood Reporter, the rep said: "If you are asking if they are having an affair, the answer is no."
Multiple journalists also mentioned a 2012 New York Times piece about Wendi. In hindsight, the title of the story—"A Declaration of Independence"—seems like a clangingly obvious sign of things to come. "In recent months, the Murdochs have grown to live largely separate lives," one line reads.
Then, there is the question of how much money Wendi and the two children she shares with Rupert will get. The two famously battled over the latter issue before; lawyers will be reading the various prenuptial and stock agreements they signed with a fine-tooth comb. (Rupert's last divorce cost him $1.7 billion.)
There is also the issue of the six homes Rupert and Wendi share. If they emerge as part of the split, she can choose to land in Beverly Hills, Australia, China, New York, London or Carmel. Of course, the money she gets from the settlement will no doubt allow her to purchase a very lovely home of her own.
BEFORE YOU GO
PHOTO GALLERY
Celebrity Splits